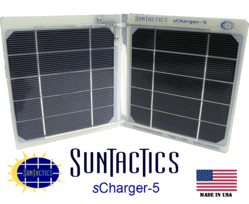 Best portable solar product on the market. Great for blackouts and emergencies
San Jose, CA (PRWEB) February 14, 2012
Suntactics is meeting the critical demand to provide sCharger-5's to customers who want to be prepared for emergencies like earthquakes, floods and hurricanes where power is interrupted for days or even weeks. Customers realize from experience the sCharger-5 is a very important emergency preparedness and survival tool.
Dean Sala, Suntactics CEO said the owner of a business in Chelmsford, MA, is a good example of someone who prepared for a potential emergency by purchasing the sCharger-5 and he confirmed the performance of the sCharger-5 in a subsequent critical emergency.
"There was some chaos here in October because of an awful storm we had, so many trees still had their leaves that when it snowed they collapsed all over the power grid and telephone lines. It caused power outages that lasted for weeks, even after the snow melted, causing flooding and all sorts of other problems. The solar charger really saved the day! When refrigerators, water pumps, and furnaces don't work for that long it is important to keep in contact with people and it would have been nearly impossible without the s-Charger5 because it was the only way to get a working telephone and you couldn't travel anywhere."
Dean Sala, Suntactics CEO, said, "It is very gratifying to produce products that help people in critical emergencies. It confirmed what our customers have been telling us about their need for a powerful solar charger like the sCharger-5 that provides both instant usage and charging from a highly reliable powerful solar charger that is simple to use, compact, durable and hassle free". "
Comments from other recent customers who purchased the sCharger-5 because they were concerned about emergencies provide further confirmation of its importance for "Being Prepared".
"Best portable solar product on the market. Great for blackouts and emergencies. Although cell phone networks gets saturated during emergencies, SMS still works and this is great for keeping contact. This solar panel is the best thing for your emergency kit and I thank the manufacturer for creating such a great product."
"Works perfectly and was great when the power went out in the whole city where we live. A must for anyone who lives in areas where power outages are becoming more common as our power grid degrades".
"Construction is high quality and appears it will last a long time. This little charger just earned a coveted spot in my travel bag. And if you pair this with an external USB battery pack and USB powered LED light, you would have a handy emergency setup".
The ability of the sCharger-5 to charge devices so quickly while remaining operational comes from the compact and high efficiency solar array. The sCharger-5 also features an efficient circuit design that helps continuously maximize the available solar energy from the sun for solar charging. You can continuously use you remote device all day, even under non-ideal sun exposure conditions, and still have a fully charged device battery at the end of the day. This is very important when dealing with emergency issues. Customers want what Suntactics provides: "a highly reliable powerful solar charger that is simple to use and hassle free".
About Suntactics
Suntactics focuses on portable solar and off grid solar energy products. Their current product is a unique 5-watt handheld USB solar charger called the sCharger-5. This compact high power and durable solar power supply is being used by customers for a wide range of portable devices. Its simplicity in design makes it hassle-free and easy to use, just plug in your device and it starts charging instantly. The sCharger-5 is manufactured locally at Fastrak, a veteran owned contract manufacturer. Suntactics is located in San Jose, CA.
###