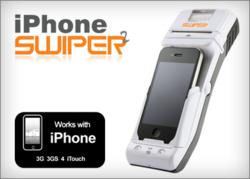 the only iPhone credit card terminal that has an integrated credit card magnetic-stripe reader, Infra-red barcode scanner, and thermal printer, all in one unit
Memphis, TN (PRWEB) June 17, 2011
iPhoneSwiper, iPhone credit card terminal provider, announced today the launch of 3 new iPhone credit card swipe products, the iPhoneSwiper2, the SwiperCradle and the SwiperClip to add to their current iPhoneSwiper product lines. All new products are now compatible with iTouch, iPhone 3G, iPhone 3GS, and iPhone 4.
The iPhoneSwiper2 has the same specs as the original iPhoneSwipe device, bringing the same capability and ease to processing credit cards on the iPhone 4. The SwiperCradel allows the mobile device to become an iPhone credit card reader by docking the iPhone on to the cradle. The SwiperClip clips onto the iPhone, iTouch or iPad, and the convenient size is easy to carry.
Credit card processing is an integral component of most businesses these days. In order for the merchant to maximize revenues, it is critical to keep the rates down. The rates are determined based on the amount of risk, and the merchant's ability to achieve the lowest rates, hinges upon their ability to conduct the least risky transactions. In the past, most mobile merchants had to key enter their credit card processing transactions. The credit card processing companies assume the card was "not present" and see the transaction as bearing a higher risk due to the fact that the card information could be, stolen or fraudulent. iPhoneSwiper allows the card to be swiped, and reads level 1 and level 2 card data which is encrypted at the time of swipe and sent over a secure network to the payment gateway for processing. Now mobile merchants can get qualified "retail" rate by swiping credit cards during a transaction. The iPhoneSwiper is the solution that can save money with every swipe.
Secure technology of the iPhoneSwiper coupled with Impact PaySystem's gateway service for iPhone credit card app, merchants can have peace of mind knowing that their credit card data is safe and secure. Also, the iPhoneSwiper family of products now will be able to provide stable and dependable wireless credit card processing. iPhoneSwiper and iPhoneSwiper2 is still the only iPhone credit card terminal that has an integrated credit card magnetic-stripe reader, Infra-red bar-code scanner, and thermal printer, all in one unit.
iPhone credit card software can be obtained from the Apple store at no cost to the merchant. This credit card processing app allows multiple uses, instead of just processing credit cards. It is a Point of Sale device all in one.
Impact PaySystem has also made mobile credit card acceptance affordable. The iPhoneSwiper2 (works with all iPhones, including 4 and iTouch) will be $ 299 with a merchant account activation. The SwiperCradle, SwiperClip along with the original iPhoneSwiper (Only works with 3G, 3GS, and iTouch) will be free with a merchant account. Impact has also introduced 90 days risk free trial period. If within the 90 days, the merchant is not satisfied with the product and/or service, they can return the unit and cancel their account with no termination fee.
Emily Roberts with iPhoneSwiper said "the success of our iPhoneSwiper coupled with our partnership with Impact PaySystem, enabled us to make these units affordable for mobile merchants".
"iPhoneSwiper devices will also allow mobile merchants to save a significant amount on their credit card processing fees, due to cards 'not present' surcharge," said Dee Karawadra, President/CEO of Impact PaySystem. "With this ingenious new Point of Sale device, you can now conduct card present transactions anywhere," added Karawadra.
"Wireless credit card processing was designed to help mobile merchants, but was never affordable. Our partnership with Impact PaySystem allows an affordable solution by using the iPhone credit card processing reader," said Roberts.
All suppliers for the device are under regular review, and all software and back-end processing connections are reviewed by Level-1 certified Visa/MasterCard assessors.
Impact PaySystem is registered national credit card processing provider based out of Memphis, TN. Impact has been providing exceptional service, honestly and ethically for over 10 years, and is backed by their A+ Accreditation from the Better Business Bureau. Get more information on http://impactpaysystems.com.
Get more information on iPhoneSwiper at http://www.iphoneswiper.com.
# # #