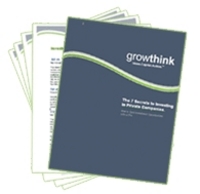 The 9 Secrets of Pre-IPO Investing.
Los Angeles, CA (PRWEB) March 25, 2008
Growthink, a leading investment bank to emerging companies, announces the release of an in-depth white paper titled "The 9 Secrets of Pre-IPO Investing."
The report provides key tips and advice for making profitable early stage investments in private companies, based on Growthink's decade of experience advising more than 1,000 early stage ventures.
Growthink is releasing the investment guide in the midst of strong "angel" investing activity in the United States. In 2007, there were approximately 234,000 active individual angel investors and approximately 49,500 private companies which received funding from individual investors.
Growthink, citing 20 years of data collected by Thomson Financial, asserts that early and seed stage private company investing has over the long-term, outperformed all other investment classes -- with average annual returns of over 20.6%.
According to Growthink, early stage angel investment can produce stratospheric returns on investment. The report cites the famous example of Google's first private investor, Andy Bechtolsheim, who wrote a $100,000 check to Google in 1998 when it was an early stage private company. As of March 2008, this $100,000 is worth approximately $1.5 billion dollars.
Growthink's report provides an overview of pre-IPO investing, including its benefits and risks, and key advice for successfully investing in early stage private companies.
Specifically, the report provides expert insight regarding:

How to Find, Evaluate, and Profit from Early Stage Investment Opportunities
How to Position Yourself to Earn Outsized Returns
How to Mitigate Your Risk Through Diversification and Investment Monitoring
To download Growthink's report, follow this link:
The 9 Secrets of Pre-IPO Investing
About Growthink
Growthink is a leading middle market investment bank to emerging companies in high-growth industries including clean-energy, digital media, and medical technology. Since 1999, Growthink has assisted more than 1,000 emerging companies with their strategic and funding objectives. Growthink clients have collectively raised $1 billion in growth financing. Sample Growthink clients include Authenticlick, Dakim, Digital Cinema Implementation Partners (DCIP), Integreon, Thrombovision, and XCOM Wireless.
Growthink provides high-quality, pre-screened deal flow for investors and strategic buyers. Each year, the firm reviews hundreds of private company investment and acquisition opportunities and selects those with the best management teams, market opportunities, and financial prospects. Growthink direct these clients to investment partners based on their investment criteria (e.g., geography, sector, liquidity profile, etc.). To discuss early stage and angel investing opportunities, please follow this link: http://www.growthink.com/venture-investing or call Growthink directly at 1-800-260-6630.
###