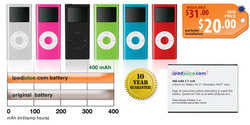 Such a service is needed, because most people lack the tools and skills needed to replace the battery in a second generation iPod
San Antonio, TX (PRWEB) August 8, 2008
Milliamp LTD, the company that gives iPods and iPhones longer life by offering replacement iPod batteries as well as iPod chargers, has just announced a brand new battery replacement service for the 2nd Generation iPod nano.
"Such a service is needed, because most people lack the tools and skills needed to replace the battery in a second generation iPod," said Mr. Anthony Magnabosco, who is the owner of the website ipodjuice.com.
What makes the second generation ipod nano battery so hard to replace? Well for starters, the unit is incredibly small and thin - WAY thinner than the iPod mini, which it is sometimes confused with. It also has tiny white end caps on the top and bottom of the player that have to be gently pulled out - pull too hard and you can damage your headphone jack and ScrollWheel. After that, tiny screws have to be exposed and gently taken out. And finally, the original iPod nano battery that was installed at the factory has to be de-soldered, removed, and a new battery has to be soldered in its place.
"The complexity of this particular battery replacement task practically requires that you send your 2nd Gen iPod nano to an expert," added Magnabosco.
The good thing about the second generation iPod nano battery replacement service is that you get the same iPod nano back - not a reconditioned one that you may get back from Apple. Additionally, the process through the ipodjuice.com website is much faster: new ipod nano batteries are typically installed the same day they come in, where you could wait weeks by sending it to the kind folks in Cupertino. Finally, and perhaps most importantly, the price of the battery changing service provided by Milliamp LTD is lower than Apple's fees.
The ipodjuice.com website is littered with glowing comments from actual customers that have either purchased a kit and performed the battery replacement by themselves or sent in their iPod nano for service.
"When you take everything into consideration, our replacement service for dying second generation Apple iPod nano batteries is the better alternative," continued Magnabosco.
The San Antonio-based company has been offering iPod battery kits for three years and counting, and hosts the best iPod repair and iPhone repair techicians in the country. So even if you don't have this particular iPod nano model, you might still find a need for their battery replacement services.
The ipodjuice.com website and the company Milliamp LTD are in NO WAY associated with Apple Computer, Inc., just in case you were bewildered about that.
'Apple', 'iPod', and 'iPhone' are trademarks of Apple Computer, Inc., registered in the U.S. and other countries.
# # #