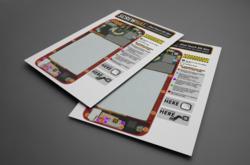 The ScrewMat helps the repair technician and DIY repair enthusiast save both time and money by more accurately keeping track of all of the small pieces within the iPod Touch 5th Generation
Tulsa, OK (PRWEB) May 28, 2013
ScrewMat.com is proud to announce the latest release of ScrewMats, including the ScrewMat for iPod Touch 5th Generation. The ScrewMat helps professional repair technicians and amateur do-it-yourself repair enthusiasts more accurately disassemble and reassemble their own iPod Touch 5th Generation mobile device by using the patent-pending ScrewMat magnetic illustrated repair guide.
"The ScrewMat helps the repair technician and DIY repair enthusiast save both time and money by more accurately keeping track of all of the small pieces within the iPod Touch 5th Generation," said Tony Baker, Vice President of Marketing for ScrewMat.com. "Out of warranty repairs are becoming much more popular these days, and that makes the ScrewMat that much more valuable to both repair services and to DIY repair enthusiasts." Said Baker.
The ScrewMat for iPod Touch 5th Generation is just the latest in a series of magnetic repair guides. ScrewMats are also available for a variety of other models, including:

ScrewMat for iPhone 5
ScrewMat for iPhone 4S
ScrewMat for iPhone 4 GSM
ScrewMat for iPhone 4 CDMA
ScrewMat for iPhone 3G/3GS
ScrewMat for iPod Touch 4th Gen.
ScrewMat for iPod Touch 5th Gen.
ScrewMat for Galaxy S III
ScrewMat for Galaxy Note II
The ScrewMat is currently available through a network of authorized dealers and wholesale part suppliers in the United States and around the world.
Leading ScrewMat authorized distributors that carry the ScrewMat for iPod Touch 5th generation include, Phone Doctors, eTech Parts, Injured Gadgets, Wholesale Gadget Parts and Mobile Pros.
For more information, please visit: http://SCREWMAT.com
About ScrewMat:
SCREWMAT was founded in 2010 to help cellular phone repair professionals and do-it-yourself amateurs efficiently and easily repair and replace parts within cellular phone, smartphone, and handheld mobile devices. For more information please visit http://ScrewMat.com