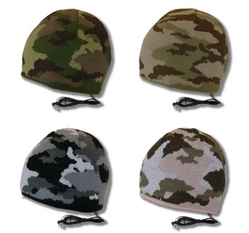 Denver, CO (PRWEB) August 18, 2009
Tooks Hats International, a Denver, Colorado based company specializing in a unique line of audio headwear featuring built-in removable headphones, recently announced a new camouflage style called Brigade as a tribute to the armed forces, with a portion of sales to benefit military families. The Brigade is an all-season 100% acrylic beanie with a microfleece band-lining available in 4 cool colors: Woodlands (the traditional green camo pattern), Desert Storm, Black Hawk, and Pink Attack. Other cool styles in the collection for 2009 include the Sportec Skully performance dry-fit beanie, the Vizor urban style beanie with a brim, the Flapjac bomber-style beanie with earflaps, and a ladies cable-knit called Ivy.
Tooks are the perfect companion to your Ipod, cell phone, or other favorite MP3 player and can be used for just about any activity where you listen to music. Tooks also make great promotional items for businesses and are very popular as personal gifts. The innovative hat features compact size removable headphones that are engineered for superior sound quality in a slim package design. The fact that they're removable also allows the headwear to be washed. The headphones are inserted into the inner layers of fabric hidden from view and can be adjusted to fit directly over the ears. Unlike the earplug styles which tend to block hearing completely, Tooks headphones allow some ambient sound to be heard, for instance while skiing, biking, or at a sporting event. The entire line is also very reasonably priced.
Tooks International supports several charitable organizations including the Children's Diabetes Foundation, Denver Affiliate Susan G Komen for the Cure, Children's Miracle Network, and the RMACA humane society. A portion of sales for the new Tooks Brigade will benefit Fisher House Foundation, a nonprofit organization for military families. Fisher House Foundation is best known for its network of 43 comfort homes on the grounds of major military and VA medical centers, providing support to families of patients receiving care nearby. The houses are 5,000 to 16,800 square foot homes, with up to 21 suites, donated to the military and Department of Veterans Affairs by Fisher House Foundation.
About Tooks International
The revolutionary idea for Tooks was developed in 2005, creating a crossover niche between fashionable apparel and the ever-growing portable electronics market. Tooks make the perfect audio accessory for sport enthusiasts or music lovers alike, combining style and comfort. Tooks International gives back in a variety of ways including youth and athlete sponsorships, charity donations, and the use of eco-friendly material in its product packaging and shipping containers. If you're wondering how Tooks got its name, pronounced like the number 2, it's derived from the French-Canadian word for a beanie hat which is "tuque" or "touque." The Tooks logo is a stylized version of a backwards musical note, and the word itself interestingly hints at the word "tunes." Visit Tooks on the web at http://www.TooksHats.com
# # #