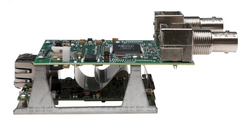 Keep pre-qualified, high-value analog cameras
(PRWEB) April 26, 2011
Pleora Technologies, a world leader in networked video connectivity solutions for mission-critical systems, will premiere its iPORT™ Analog-Pro IP engine—the latest offering in its rich solution-set for high-performance video over Ethernet—at the SPIE Defense, Security + Sensing 2011 symposium being held this week in Orlando, Florida.
One of the biggest challenges to modernizing vetronics vision systems is cost. However, the ability to reuse already existing and already qualified cameras is of significant benefit and this is precisely why Pleora created the iPORT Analog-Pro IP engine. "Reusing existing cameras," explains John Phillips, Pleora Senior Product Manager, "not only reduces cost, but also risk, since these cameras have already been qualified to meet precise specifications for performance and image quality."
With the iPORT Analog-Pro IP engine, existing vision system equipment can become part of a complete networked video solution that can include Pleora's vDisplay™ video receivers, the feature-rich eBUS™ SDK application development toolset, and native GigE Vision® cameras. In such a network, integrators can move beyond point-to-point camera-computer connectivity and take advantage of point-to-multipoint and multipoint-to-multipoint topologies, while leveraging easily accessible Gigabit Ethernet (GigE) hardware.
The iPORT Analog-Pro IP engine is compatible with GigE Vision and GenICam™ standards for video transfer and device control over a GigE link, which increases interoperability between products from different manufacturers, while dramatically lowering system cost and complexity.
Why Pleora?
Systems integrators choosing the COTS iPORT Analog-Pro IP engine as part of a vetronics modernization platform will benefit from:

Full resolution video at up to 30 fps per channel;
Two RS-232 ports to control external accessories;
Software-controlled general purpose inputs and outputs;
Compact form factor (4 inches x 2 inches x 1.7 inches);
Low, consistent latency, appropriate for vehicle driver's vision system; and
Low power consumption.
See the iPORT Analog-Pro IP Engine in Action
SPIE Defense, Security + Sensing 2011 exhibition
April 26-28, 2011
Cypress Hall, Booth 406
Orlando World Center Marriott Resort & Convention Center
Orlando, Florida, USA
About Pleora
Pleora Technologies Inc. pioneered the use of Gigabit Ethernet for real-time networked video connectivity and revolutionized industrial imaging. With this spirit of innovation, Pleora engineers networked video connectivity solutions for mission-critical applications. Working with its rich portfolio of video networking elements, Pleora partners with customers to tailor solutions to their individual needs, from definition to deployment, with full integration support. Find out why more military, medical, and manufacturing integrators and OEMs choose—and stay—with Pleora, visit http://www.pleora.com.
###