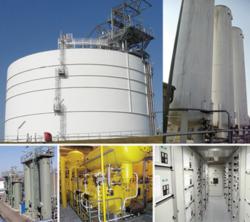 Hamilton, NJ (PRWEB) April 02, 2013
International Process Plants (IPP), through its affiliate, is pleased to announce the purchase and acquisition of a liquified natural gas (LNG) peak shaving plant (PSP) located in Dormagen, Germany. IPP is now selling this LNG plant to be operated at the present site in Germany, or to be moved to another site in the world where liquefying natural gas is economically viable. This LNG plant is available for immediate delivery.
This LNG facility can liquefy up to 2,400 NM³/Hour of natural gas, resulting in 4 NM³/Hour of LNG (600:1 ratio of gas to liquid). It has a liquid storage capacity of 22,700 NM³ (5.99 Million Gallon) and gaseous capacity of 14 Million NM³. The liquefaction process was idled recently. RWE completed major plant-wide upgrades in 2008 that will provide for safe and economical operation of this LNG peak shaving facility for another 20 years. The site has excellent rail and truck access for LNG vehicle loading and is a half mile from a dock on a major waterway that can be used for equipment loading.
LNG peak shaving plants can be used to reliably build liquid natural gas inventory for use in peak demand and emergency situations. In those situations, the LNG is vaporized at a high rate and injected back into the natural gas pipeline supply grid. IPP's peak shaving facility can also enhance an existing LNG process by liquefying the boil-off gases from cryogenic storage tanks, thereby allowing an operator to leave larger liquefaction lines idle. Other potential uses for this LNG plant include liquefying natural gas for vehicle fueling stations and converting landfill gas to liquefied natural gas.
The major component of this LNG facility is a 5.99 million gallon, 37 M dia. x 32 M tall X8Ni9 (9% Nickel Alloy) double-wall cryogenic LNG storage tank with two submersible/retractable two-stage centrifugal in-tank pumps. The main compressor is an eight-stage Ingersoll Rand reciprocating compressor with a 2,800 kW motor. Liquid nitrogen is stored on-site in three double-wall tanks measuring 2.5/2.9 M dia. x 12.7/13.7 M. Utilities and ancillary equipment include liquid nitrogen pumps, centrifugal high pressure pumps, burckhardt boil-off reciprocating gas compressor, new electronic instruments and a Siemens control system
Interested parties may call +1-609-454-2940 or visit http://www.ippe.com/News/IPPAcquiresLNGPeakShavingPlant/tabid/324/Default.aspx.