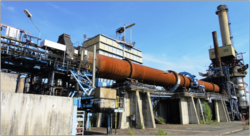 Hamilton, NJ (PRWEB) May 07, 2013
International Process Plants announces an eletrometallurgical coke plant line available for sale. The met coke line produces a high-quality, highly-reactive met coke that is ideal for use in iron ore processing for steel production.
Two important attributes of met coke are porosity and reactivity, and the met coke produced by this plant rates well in both categories. Porosity has a major influence on coke strength. Additionally, using highly reactive coke leads to reduced energy consumption in blast furnaces and has been shown to produce a stronger iron product.
IPP director of plant Michael Joachim notes that "this plant is ideal for steel producers who are expanding production and need high-quality, highly reactive met coke. This metallurgical coke rated 33% more porous and nearly twice as reactive as that of the competitor. This plant is an opportunity for steel producers to reduce operating cost while producing a stronger product."
This plant's unique rotary kiln technology sets it apart from conventional coke production lines, as it can be turned completely off and back on as market conditions dictate. Conventional met coke ovens cannot be completely shut off.
Met coke is important for steel production, making this plant an ideal asset for companies in countries with rising steel production, such as China. According to a February 2013 report from the National Bureau of Statistics, crude steel output in China rose to a daily average of 2.21 million metric, breaking the previously monthly record.
More information about this metallurgical coke plant can be found at ippe.com.
About International Process Plants
International Process Plants (IPP) is a self-funded global buyer and seller of surplus manufacturing facilities, process plants, industrial real estate, and individual equipment that are no longer needed by their original owners. 80% of IPP's purchases are from multinational companies and 20% are bought in distress situations. IPP's business model provides the opportunity for companies to acquire such assets at competitive prices and in a fraction of the lead time of building or buying new. IPP also serves as an outlet for companies looking to divest surplus assets quickly in a fiscally and environmentally conscious manner. IPP currently owns 17 complete plant sites including the land, buildings and equipment, 85 complete processes to be moved and operated elsewhere and a stock of 30,000 major pieces of process equipment. One of the largest firms in this business, IPP operates globally from its headquarters in the US and its company-owned operations in 16 other countries. In business for over 35 years, IPP serves 160,000 clients in the chemical, agrichemical, petrochemical, oil & gas, paper, plastic, power generation, metallurgical, fertilizer, artificial fiber, pharmaceutical and food industries. Learn more at http://www.ippe.com.