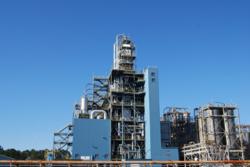 "According to a 2012 industry report, world consumption of PET is forecast to grow at an average annual rate of approximately 4%" says Michael Joachim, IPP Director of Plants
Hamilton, NJ (PRWEB) April 18, 2013
International Process Plants (IPP) announces two PET plants available for sale. IPP Director of Plants Michael Joachim explains, "We have seen the PET resin market steadily grow, driven by macroeconomic factors like growth in disposable income in developing countries as well as microeconomic factors, such as new applications in the fast-moving consumer goods (FMCG) and pharmaceutical industries. According to a 2012 industry report, world consumption of PET is forecast to grow at an average annual rate of approximately 4%."
The first available plant, the former Wellman Palmetto PET plant located in Darlington, S.C., includes a 1.1 million square foot building, 760 acres of land and all existing machinery and equipment. The plant includes three central monomer plants, seven staple continuous polymerization (CP) lines used to feed the plant's production of polyester staple fiber (includes spinning lines) and five bottle resin CP chip lines. The staple fiber lines served customers that produced textiles, non-wovens (filtration media, diapers, disposable fabrics) and fiberfill (home furnishings and outdoor wear). The PET resin lines produced a wide variety of products that customers used to produce PET bottles, packaging and blow molding extruder-fed products. The site's existing production units of 250,000 tons per year (tpy) of PET resins and 250,000 tpy of polyester staple fiber are available to restart in whole or in part, to be operated in place and restarted or to be moved elsewhere.
The second plant available for sale is a complete solid-state PET resin plant with a capacity of 215,000 tons/year that can be expanded to 265,000. The plant produced solid-state resins used by bottlers of carbonated soft drinks and flat and mineral water, as well as by cosmetics manufacturers. The plant's two continuous polymerization (CP) lines, rated at 6.2 tons per hour (tph) and 19 tph respectively, feed two Bepex solid state polymerization (SSP) lines rated at 12.6 tph each. These lines were often used to produce 3 different products within the same production month. This PET plant can be restarted quickly for operation in place or can be easily relocated and reused elsewhere.
Full descriptions of each PET plant are available at http://www.ippe.com.
About International Process Plants
International Process Plants (IPP) is a self-funded global buyer and seller of surplus manufacturing facilities, process plants, industrial real estate, and individual equipment that are no longer needed by their original owners. 80% of IPP's purchases are from multinational companies and 20% are bought in distress situations. IPP's business model provides the opportunity for companies to acquire such assets at competitive prices and in a fraction of the lead time of building or buying new. IPP also serves as an outlet for companies looking to divest surplus assets quickly in a fiscally and environmentally conscious manner. IPP currently owns 17 complete plant sites including the land, buildings and equipment, 85 complete processes to be moved and operated elsewhere and a stock of 30,000 major pieces of process equipment. One of the largest firms in this business, IPP operates globally from its headquarters in the US and its company-owned operations in 16 other countries. In business for over 35 years, IPP serves 160,000 clients in the chemical, agrichemical, petrochemical, oil & gas, paper, plastic, power generation, metallurgical, fertilizer, artificial fiber, pharmaceutical and food industries. Learn more at http://www.ippe.com.