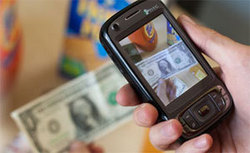 This level of real-time performance is crucial for visually impaired users to quickly, easily detect and recognize a wide range of objects and subjects.
Los Angeles, CA (Vocus) March 24, 2010
Ipplex, the company behind the pioneering iVisit™ mobile conferencing solution, and LinkMe Mobile™, the leader in image and voice recognition technology for mobile phones, have formed a partnership to create cutting-edge mobile applications. At this week's CTIA Wireless conference, Ipplex unveils LookTel incorporating LinkMe Mobile's strong patent portfolio. Truly groundbreaking, LookTel is the world's first augmented reality application created to make a positive impact on the lives of visually impaired and elderly users by increasing functional independence. The partnership between Ipplex and LinkMe Mobile will lead to many exciting consumer and business augmented reality applications.
LookTel has been named a finalist in the Healthcare/Public Safety/Transportation Category in CTIA Wireless' Emerging Technology (E-Tech) Awards. More than 80 prominent media and industry analysts judged the 300-plus entries. Products and services were judged on innovation, functionality, technological importance, implementation and the overall "wow" factor.
According to the World Health Organization (WHO), there are over 345 million visually impaired people worldwide, with more than 11 million in the U.S. alone. LookTel was developed by Ipplex under sponsorship from the National Institutes of Health (NIH) and was awarded two research grants from the National Eye Institute (NEI) and the National Institute of Aging (NIA). LookTel allows users to instantly interact with their world through their mobile phone -- recognizing everyday objects such as text, money, packaged goods, CDs or medication bottles, even signs and landmarks. The app combines precision image recognition technology with text reader capabilities using full featured Optical Character Recognition (OCR). By simply pointing the mobile device at what the user wishes to "see," LookTel pronounces the name of the object or reads text in clear and easy to understand speech. If additional help is desired the user can immediately connect with a friend or family member using live video or audio chat right through their mobile phone! Using photos, video, push-to-talk audio and GPS tracking data sent from the phone, friends and family can help read signs on street corners and buildings, use mapping for further information, and even provide turn-by-turn directions.
LookTel enables users to have the freedom and confidence to go about their daily tasks knowing they have the assistance they need anywhere, anytime. Looktel's accessible touch-screen phone interface also allows users to intuitively navigate through a phone's various menus to launch specific actions -- from placing an outbound call, to accessing the object recognition and text reader programs. The touch-screen menu is arranged in a grid formation similar to a numeric dial pad, with each position on the screen representing a different menu item. Users can single-tap to hear a menu item and double tap to activate it. Please watch LookTel in action.
LookTel uses Ipplex's scalable mobile communication technology enabling the program to recognize and track objects at up to 10 frames per second over 3G networks -- the highest speed available in the market. Ipplex Founder & CEO Orang Dialameh describes, "This level of real-time performance is crucial for visually impaired users to quickly, easily detect and recognize a wide range of objects and subjects."
LookTel has been heavily researched and tested in end-user trials over the past four years, in partnership with research teams at the US Dept. of Veterans Affairs' Atlanta Research & Education Foundation (AREF) and Blind Wisdom Inc. Gary Kelly, who is an adviser to Ipplex, and the Executive Director of Blind Wisdom Inc. is a visually impaired human factors engineer. Kelly explains, "The philosophy guiding the development of LookTel has been driven by the end user from the inception of the project. Listening to the community will be as important to LookTel's success as the novel technologies being applied."
LinkMe Mobile's CEO Douglas W. Miller adds, "Ipplex has not only created an exciting application for the visually impaired, they have built a scalable and real-time technology platform with a future in groundbreaking augmented reality applications. Our technologies perfectly complement each other. We're thrilled to be working with such a visionary and passionate team and look forward to announcing ever more exciting projects and applications that will enhance people's lives." Dialameh adds, "We teamed up with LinkMe Mobile because their recognition technology and patents are the foremost in the market."
Ipplex and LinkMe Mobile have both won ETech awards in the Consumer Mobile Apps category at previous CTIA Wireless conferences -- Ipplex in 2008 and 2009 and LinkMe Mobile in 2008.
** Visit Ipplex and iVisit to see LookTel in action at Booth # 6921 at this week's 2010 CTIA Wireless show in Las Vegas, NV. **
About Ipplex
Ipplex researches and develops pioneering cross-platform applications and services focused on interactive communication – between people and the information, contacts and places they need to access through their mobile phone or pc. Our award-winning iVisit mobile video conferencing solutions have made business simpler & easier – and our iVisit Mx telemedicine solutions are the next step in mobile medical technology. In 2010, we've launched LookTel, an exciting augmented reality application created to positively impact the lives of the visually impaired -- and nominated as a finalist in CTIA Wireless' ETech Awards in March 2010. From live audio/video conferencing solutions to mobile healthcare to augmented reality applications, Ipplex is always one step ahead of the curve. Please visit us at Ipplex.com.
About LinkMe Mobile
The global leader in mobile search technology with brands in the US, Japan, China, Canada and the UK, LinkMe Mobile™ transforms mobile phones into extraordinary Discovery Devices™. Using our patented recognition technology, consumers can instantly connect and interact with their world through their mobile phones. LinkMe Mobile is the only company that combines visual and voice recognition technology to create customized, brand-specific, multi-modal applications and products. LinkMe Mobile's strong IP portfolio positions it as the leader in the market -- with 8 issued US patents and 27 pending globally. Our technology powers the visual search component of Barnes & Noble's wildly successful Bookstore app for Apple's iPhone and iPod touch. More than 2 million satisfied Barnes & Noble customers enjoy mobile commerce, shopping and browsing for their favorite books, cds, and dvds right from their fingertips. Other LinkMe Mobile partners include: Ipplex, IBM, Clear Channel Malls, Coty, ESPN The Magazine, UK Living Network, Nestle, Cosmopolitan, Fiat, Lacoste, Woman's Day, Lionsgate, Ogilvy, Candyspace, Asahi Shimbun, ValueCommerce, Yahoo Japan and the television program "Supernatural." Watch for many more exciting LinkMe Mobile announcements to come in 2010 from these and other partners. Please visit the LinkMe Mobile website and blog to find out more about what image, voice and audio recognition can do for you, your phone and your mobile apps!
About CTIA
CTIA-The Wireless Association® is an international organization representing the wireless communications industry. Membership in the association includes wireless carriers and their suppliers, as well as providers and manufacturers of wireless data services and products. CTIA advocates on behalf of its members at all levels of government. The association also coordinates the industry's voluntary best practices and initiatives, and produces the industry's leading tradeshows. CTIA was founded in 1984 and is based in Washington, D.C. Visit ctia.org. Celebrating 25 years as the premier global mobile marketplace, International CTIA WIRELESS 2010® brings together all industries advanced by wireless technology for three days of intense business, learning and networking in Las Vegas, March 23-25. Visit ctiashow.com.
# # #