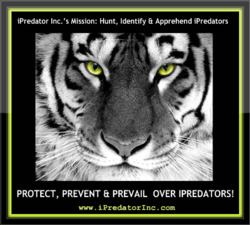 Hudson Valley, New York (PRWEB) November 24, 2012
Children of the 21st century are enamored by the novelty of the Information Revolution. Adults, parents & educators are equally intrigued, as well as, unprepared for this societal paradigm shift centralized around Information and Communications Technology (ICT). To slow the harm to children and all ICT users, Dr. Internet Safety is announcing his availability free to all offline & online media sources (a.k.a., N.Y.S. licensed psychologist & iPredator author, Dr. Michael Nuccitelli).
Given iPredator Inc.'s mission is to increase awareness of technological predation, Dr. Internet Safety is volunteering his time to educate the public. The moniker, Dr. Internet Safety, educates all age ranges, but specializes in educating parents, children and adolescents using "net lingo", Information Age developmental psychology and family dynamics.
As ICT continues to become a growing thread in the fabric of all nations, the people using these billions of electronic and digital devices must learn to identify, at a minimum, the iPredator. The veil of anonymity afforded to all ICT users is taken for granted when used by those engaging in malevolent and nefarious activities. It is for this reason that diligent caution must be practiced. A brief definition of iPredator is as follows:
iPredator: A child, adult or group who, directly or indirectly, engages in exploitation, victimization, stalking, theft or disparagement of others using Information and Communications Technology (ICT.) iPredators are driven by deviant fantasies, desires for power and control, retribution, religious fanaticism, political reprisal, psychiatric illness, perceptual distortions, peer acceptance or personal and financial gain. iPredators can be any age, either gender and not bound by economic status, race or national heritage.
iPredator is a global term used to distinguish anyone who engages in criminal, deviant or abusive behaviors using ICT. Whether the offender is a cyberbully, cyberstalker, cyber harasser, cybercriminal, online sexual predator, internet troll or cyber terrorist, they fall within the scope of iPredator. The three criteria used to define an iPredator include:
I. A self-awareness of causing harm to others, directly or indirectly, using ICT. II. The intermittent to frequent usage of ICT to obtain, exchange and deliver harmful information. III. A general understanding of Cyberstealth used to engage in criminal or deviant activities or to profile, identify, locate, stalk and engage a target.
Unlike human predators prior to the Information Age, iPredators rely on the multitude of benefits offered by ICT. These benefits include exchange of information over long distances, rapidity of information exchanged and the seemingly infinite access to data available. Malevolent in intent, iPredators rely on their capacity to deceive others using ICT in an abstract electronic universe.
Child abuse, whether perpetrated by a child or adult, is detrimental to all aspects of their development following them into adulthood. Stated by Dr. Nuccitelli, "Dr. Internet Safety was developed to hinder the natural instincts of children to rebel against adults attempting to teach them a cautious approach to ICT. Instead of Dr. Nuccitelli educating the community on iPredator dynamics and tech. predator profiling, Dr. Internet Safety discusses how "uncool" & "immature" it is to tweet or post how fat, ugly or stupid a fellow student is in their Facebook profile."
Topics Dr. Internet Safety is adept at discussing include: cyberbullying, cyberstalking, cyber harassment, cybercrime, online sexual predation, internet culture, mobile device safety, ICT relationship dynamics, cyber psychology & regional/national criminal news involving all forms of ICT.
Dr. Nuccitelli has created a variety of creative templates to use by broadcast & internet radio and online & offline print media including "Ask Dr. Internet Safety", "Dr. Internet Safety's Top 10 List" and "On the Cyber Couch with Dr. Internet Safety" to name a few. In return for Dr. Internet Safety's volunteer time and services, Dr. Nuccitelli requests that the host media outlet encourage their readers, listeners or viewers to contact them with stories, news and ideas that focus on Internet Safety.
About iPredator Inc.
Created by a New York State licensed psychologist and certified forensic consultant, Dr. Michael Nuccitelli, iPredator Inc.'s goal is to reduce victimization, theft and disparagement from ICT assailants. Dr. Nuccitelli is honored to have Robert O'Block, founder of the American College of Forensic Examiners International to publicly voice his organization's support. In June 2012, Dr. Nuccitelli & iPredator Inc. launched their Internet Safety Education & Tech. Predator Investigation website offering site visitors an enormous amount of free information.
Contact:
Michael Nuccitelli Psy.D., C.F.C.
NYS Licensed Psychologist
Ph: (347) 871-2416
Website: http://www.iPredator.co
Forensics Blog: http://www.DarkPsychology.co
Internet Safety Blog: http://www.DrInternetSafety.wordpress.com