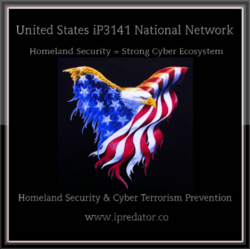 Homeland Security = Strong Cyber Ecosystem
Hudson Valley, New York (PRWEB) December 29, 2012
iP3141 is a national homeland security & cyber terrorism prevention initiative developed by NYS licensed psychologist and certified forensic consultant, Dr. Michael Nuccitelli. In light of growing reports America is at risk for a cyber terrorism attack and what authorities have termed Cyber Pearl Harbor, Dr. Nuccitelli has designed a plan that will reduce the probability of a cyber terrorism attack, increase homeland security information dissemination speed and ignite an Information Age educational movement in the United States.
iP3141 is a national initiative to establish an educational, homeland security and public sector network to service, educate & monitor Americans of the 3,141 counties and county equivalents in the 50 States and the District of Columbia. At no cost or personal information requirement, interested parties can download or print, at their website, a brief overview of Dr. Nuccitelli's iP3141 Template.
According to the FBI, cyber terrorism is any "premeditated, politically motivated attack against information, computer systems, computer programs and data which results in violence against non-combatant targets by sub-national groups or clandestine agents."
As the author of a new technological predator construct called iPredator, cyberstalkers, cyber terrorist, cyber criminals and the severely disturbed are just a few of the typologies included in his theory that victimize others using Information and Communications Technology (ICT). Also included is how Information Age society has drastically changed, becoming more isolated and disconnected leading to a paradigm shift in violence, crime and deviance.
In addition to assisting citizens, iPredator Inc.'s mission is to initiate a nationally sustained educational & awareness campaign and Dr. Nuccitelli's plan of what he has called the United States iP3141 National Network. Once implemented, the mission of the iP3141 Network is to increase awareness of the benefits and dangers of Information and Communications Technology (ICT), decrease rates of cybercrime and human online victimization, educate citizens on homeland security and significantly increase education & awareness of pediatric online users via an ICT educational curriculum covering iPredator issues.
There are 3,141 counties and county equivalents in the 50 States and the District of Columbia. (United States Geological Survey) The letter "i" in iPredator stands for Information and Communications Technology. Cyber Terrorism is one typology of the construct iPredator. Hence, iP3141 is the tentative name of Dr. Nuccitelli's initiative.
The iP3141 plan, designed by Dr. Nuccitelli, is a work in progress. Dr. Nuccitelli is only one American and he is seeking proactive citizens and organizations of America to assist him in his endeavors. In addition to the obvious benefits to Americans, Dr. Nuccitelli predicts it will help create new employment opportunities, expand homeland security awareness regarding cyber terrorism and cyber security threats, create a centralized forum for exchange of ICT, inspire educated consumerism for ecommerce & m-commerce and place the United States in the forefront globally in ICT.
Given that the rapid expansion of ICT is both happening and inevitable, Dr. Nuccitelli would like to see 2013 become the year the United States initiates steps to become the leader in internet safety and cyber security for all online users.
The mind & ICT will be relevant in understanding the motivations of all criminals, deviants and the severely disturbed. All future alleged mass killers and violent offenders would be assessed and judged by their criminal actions, their past and their ICT usage. Dr. Nuccitelli strongly believes ICT acts as an accelerant to the "fantasy world" and malevolent plans common to all cyber terrorist, mass murderers and those planning violence against humanity.
About iPredator Inc.
Created by a New York State licensed psychologist and certified forensic consultant, Dr. Michael Nuccitelli, iPredator Inc.'s goal is to reduce victimization, theft and disparagement from online assailants. Dr. Nuccitelli is honored to have Robert O'Block, founder of the American College of Forensic Examiners International (ACFEI) to publicly voice his organization's support. ACFEI is the largest professional forensic organization in the world with 20,000 members and advisory board members who are some of the premiere forensic experts of the 21st century. In June 2012, Dr. Nuccitelli & iPredator Inc. launched their Internet Safety Education & Tech. Predator Investigation website offering site visitors an enormous amount of free information.
Contact:
Michael Nuccitelli Psy.D., C.F.C.
NYS Licensed Psychologist
Ph: (347) 871-2416
Website: http://www.iPredator.co