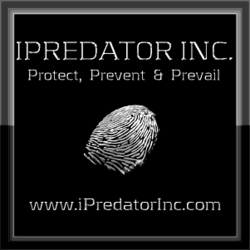 PROTECT, PREVENT & PREVAIL OVER IPREDATORS!
Hudson Valley, New York (PRWEB) December 11, 2012
iPredator is a technological predator construct developed by New York State licensed psychologist and certified forensic consultant, Dr. Michael Nuccitelli. His construct explores the dynamics of people who engage in criminal, deviant and deceptive activities using Information and Communications Technology (ICT). At their internet safety website, Dr. Nuccitelli offers his construct at no cost to download.
As stated by Dr. Nuccitelli "Our Secretary of Defense has announced that a Cyber Pearl Harbor is inevitable. The FBI, in 2011, reported that 750,000 online child predators troll cyberspace. How many children and vulnerable citizens have to be victimized before America takes action?"
Technological predators and their victims are Information Age dynamics new to human civilization of the 21st century. Dr. Nuccitelli and a growing group of proactive citizens are hoping to trigger a national discussion on how to slow the rapid expansion of cyber victimization. A brief description of iPredator is as follows:
iPredator: A child, adult or group who, directly or indirectly, engages in exploitation, victimization, stalking, theft or disparagement of others using Information and Communications Technology (ICT.) They are driven by deviant fantasies, desires for power and control, retribution, religious fanaticism, political reprisal, psychiatric illness, perceptual distortions, peer acceptance or personal and financial gain. iPredators can be any age, either gender and not bound by economic status, race or national heritage.
iPredator is a global term used to distinguish anyone who engages in criminal, deviant or abusive behaviors using Information and Communications Technology (ICT.) Whether the offender is a cyberbully, cyberstalker, cyber harasser, cybercriminal, online sexual predator, internet troll or cyber terrorist, they fall within the scope of iPredator. The three criteria used to define an iPredator include:
I. A self-awareness of causing harm to others, directly or indirectly, using ICT. II. The intermittent to frequent usage of Information and Communications Technology (ICT) to obtain, exchange and deliver harmful information. III. A general understanding of Cyberstealth used to engage in criminal or deviant activities or to profile, identify, locate, stalk and engage a target.
Unlike human predators prior to the Information Age, iPredators rely on the multitude of benefits offered by Information and Communications Technology (ICT.) These assistances include exchange of information over long distances, rapidity of information exchanged and the seemingly infinite access to data available. Malevolent in intent, they rely on their capacity to deceive others in the abstract electronic universe known as cyberspace.
Although it is assumed all humanity, has residing deep in their psyche, the potential & Dark Psychology for behaving in harmful and malevolent ways they rarely or never activate, ICT and cyberspace offers a direct connection and psychological route to the dark side. Just as ICT and cyberspace is incredibly pro-social and beneficial to humanity, these same technological advancements can lead humanity to diabolical and sinister endeavors.
To download a complimentary copy, visit the website, scroll to the bottom of the web page and click on the green print button. For direct connect to the page, click on this highlighted link: iPredator. Visitors are not required to join or offer any personal information.
About iPredator Inc.
iPredator Inc. was founded in 2012 to provide education, investigation and consultation to consumers and organizations on cyber bullying, cyber harassment, cyber stalking, online sexual predation, cybercrime, cyber terrorism, internet safety and digital reputation. Created by a New York State licensed psychologist and certified forensic consultant, Dr. Michael Nuccitelli, their goal is to reduce victimization, theft and disparagement from online assailants. iPredator Inc. expresses their gratitude to Robert O'Block, CEO & founder of the American College of Forensic Examiners International for supporting their mission and actively participating in encouraging awareness. In June 2012, they launched their Internet Safety & Tech. Predator website offering site visitors an enormous amount of free information.
Contact:
Michael Nuccitelli Psy.D., C.F.C.
NYS Licensed Psychologist
347-871-2416
Website: http://www.iPredator.co