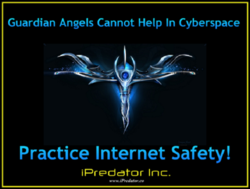 Protect, Prevent & Prevail Over iPredators
Kingston, NY (PRWEB) July 03, 2012
As Information and Communications Technology continues to become integral to society, the creativity of iPredators and online sexual predators match advancements in information technology. Internet safety & cyber security is vital to all online users. Below is a list of factors sought by iPredators searching for their next target.
Dr. Michael Nuccitelli of iPredator Inc. often states, "Prior to the Internet, a child predator had to get off his butt, get in his car and sit outside of schools to locate his targets. Thanks to Information and Communications Technology, they don't even have to leave their home." Just as classic criminals can "case" a home or choose the most vulnerable child to abduct, the iPredator is able to do the same using information they compile from a variety of online sources and contacts. The definition and motivations of iPredator is as follows:
iPredator: A child, adult or group who engages in the exploitation, victimization, stalking, theft or disparagement of others using Information and Communications Technology (ICT.) iPredators are driven by deviant fantasies, desires for power and control, retribution, religious fanaticism, political reprisal, psychiatric illness, perceptual distortions, peer acceptance or personal and financial gain. iPredators can be any age, either gender and not bound by economic status, race or national heritage.
iPredator is a global term used to distinguish all online users who engage in criminal, deviant or abusive behaviors using Information and Communications Technology. Whether the offender is a cyberbully, cyberstalker, cyber criminal, online sexual predator, Internet troll or cyber terrorist, they fall within the scope of iPredator. There are three criteria used to define an iPredator including:
I. A self-awareness of causing harm using Information and Communications Technology. II. The intermittent to frequent usage of Information and Communications Technology to obtain, exchange and deliver harmful information. III. A general understanding of Cyberstealth used to profile, identify, locate, stalk and engage a target.
When an offender profile includes these three characteristics, they meet the definition of iPredator. Cyberstealth, a concept formulated along with iPredator, is a term used to define a method and/or strategies by which iPredators devise tactics to establish and sustain complete anonymity while they troll and stalk an online target. The methods iPredators use in their Cyberstealth strategies and decision-making process to target a victim are as follows:
1. The amount of personal information a potential target discloses online.
2. The frequency a potential target discloses their contact information online.
3. The content of the information a potential target discloses online.
4. The lack of Internet safety measures a potential target institutes online.
5. The potential targets willingness to discuss sensitive issues including sexual topics, financial information, their physical location, parental or adult monitoring of their online activities, experiences of distress at home, work, school and interpersonal or intrapersonal issues.
6. The amount of time the potential target spends online.
7. The type of information a potential target discloses on their social networking profiles (i.e. Facebook, MySpace, MyYearbook, LinkedIn.)
8. The potential target's offline demeanor leading the iPredator to conclude the online user will be an easy target.
9. The non-response or lack of assertive confrontation by a potential target to respond to negative information.
10. The potential target's probability of not having social system support, legal/law enforcement support or knowledge of intervention strategies if cyber attacked.
11. The quantity and themes of images and/or videos an online user shares online.
12. The pattern of "likes" and "dislikes" an online user discloses on their social networking site profiles.
13. The frequency a potential target changes their profile images and information on their social networking profiles.
14. Images and/or videos showing the potential target's economic status, the layout of their residence or their material objects they or their loved ones own.
15. Images, videos and posts of the potential target's choice of material objects.
16. Images, videos and posts of the potential target's lifestyle.
17. Images, videos and posts of the potential target's needs, want and desires.
18. Images, videos and posts suggesting the potential target is suffering from psychological and/or psychosocial dysfunction.
Although there are other factors an iPredator uses in their repertoire to locate and target a victim, the eighteen factors listed are recommended to evaluate by all online users to reduce their chances of becoming an iPredator target.
About iPredator Inc.
iPredator Inc. was founded in September 2011 to provide educational and advisory products & services to consumers and organizations on cyberbullying, cyberstalking, sexual predators, cybercrime, Internet defamation, cyber terrorism and all forms of cyber abuse. Their goal is to reduce victimization, abuse, theft and disparagement from online assailants. Their website is the first step to educate online users on the dangers on the Internet. Dr. Nuccitelli has extensive media experience and truly enjoys educating the public on iPredator Awareness, Internet Safety, Internet Culture, Forensic Psychology & local/national criminal news.
Contact:
Dr. Michael Nuccitelli
Chief Operating Officer
iPredator Inc.
845-592-0722
Website: iPredator.co