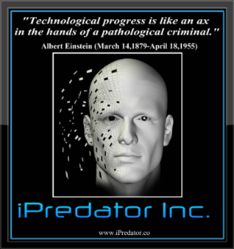 Protect, Prevent & Prevail Over iPredators!
Hudson Valley, New York (PRWEB) November 21, 2012
Internet Predators, cyber attacks and online victimization are Information Age dynamics never before experienced by humanity. iPredator Inc. founder, Dr. Michael Nuccitelli, has stated, "The "i" in iPredator stands for Information and Communications Technology (ICT). iPredators use the internet and all forms of electronic devices to locate, target and harm their victims." Dr. Nuccitelli and iPredator Inc. are diligent in their endeavors to encourage a national discussion on how to stop those who use ICT to victimize others.
iPredator Inc. is now offering free consultation, for the remainder of 2012, in exchange for results of Dr. Nuccitelli's newly created iPredator Bridge Warning Signs Checklist (IBWSC). Available for free download at their website, iPredator Inc. is seeking citizens to contact them who use the IBWSC to assess if a loved one, partner, child or colleague is engaging in malevolent or nefarious activities. With community feedback, Dr. Nuccitelli hopes to hone his checklist into an effective tool in the fight against iPredators. Just as the IBWSC is free for download at their website, the final product will be free to download as well. A brief definition of iPredator, iPredator Bridge and the IBWSC is as follows:
iPredator Bridge Warning Signs Checklist (IBWSC): Based on the iPredator Bridge construct, the iPredator Bridge Warning Signs Checklist (IBWSC) is a 50 item checklist designed to investigate if a loved one, colleague or peer is participating in or close to participating in harmful online and/or ICT activities towards others. Multiple affirmative responses to IBWSC statements suggests the person being queried exhibits patterned and/or observable behavioral patterns indicating they may be engaged in iPredator activities. The IBWSC focuses on confirmed behavioral observations and not upon personal convictions and/or philosophical reasons for harming others online or using ICT.
The IBWSC assumes there are both people engaged in nefarious and malevolent activities and those engaged in harming others driven by distorted beliefs they are doing so for righteous and/or morally supported reasons. The common thread identical in both segments is the victims they target suffer from their attacks. Used to develop the IBWSC, a brief definition of iPredator and iPredator Bridge is as follows:
iPredator Bridge: iPredator Bridge is a theoretical tenet of iPredator representing the psychological, perceptual & behavioral trajectory of people who use Information and Communications Technology (ICT) to harm others. Similar to the iPredator, they are motivated by personal convictions, greed, power, control, narcissism or psychopathology. Different from the iPredator, they have yet to fully engage in criminal/deviant activities using ICT or use complex perceptual distortions to validate the harm they cause. iPredator Bridge investigates why some people draw near to this nefarious and malevolent realm and either proceed in their maladaptive trajectory or cease and desist.
iPredator: A child, adult or group who, directly or indirectly, engages in exploitation, victimization, stalking, theft or disparagement of others using Information and Communications Technology (ICT.) iPredators are driven by deviant fantasies, desires for power and control, retribution, religious fanaticism, political reprisal, psychiatric illness, perceptual distortions, peer acceptance or personal and financial gain. iPredators can be any age, either gender and not bound by economic status, race or national heritage.
iPredator is a global term used to distinguish anyone who engages in criminal, deviant or abusive behaviors using Information and Communications Technology (ICT.) Whether the offender is a cyberbully, cyberstalker, cyber harasser, cybercriminal, online sexual predator, internet troll or cyber terrorist, they fall within the scope of iPredator.
To download a free copy of the IBWSC, visit the iPredator website, scroll to the bottom of the IBWSC web page and click on the green print/pdf button. Visitors are not required to join, sign up or provide personal information to download the checklist. For Immediate connect to the web page & download, click the link here: IBWSC
Upon completion of the IBWCS, contact iPredator Inc. to discuss the results with Dr. Nuccitelli. Privacy is always honored and Dr. Nuccitelli will not require the identity of the subject assessed. In exchange for this contact, Dr. Nuccitelli offers free consultation, educational materials and assistance locating resources in his/her community if requested.
About iPredator Inc.
Created by a New York State licensed psychologist and certified forensic consultant, Dr. Michael Nuccitelli, iPredator Inc.'s goal is to reduce victimization, theft and disparagement from online assailants. Dr. Nuccitelli is honored to have Robert O'Block, founder of the American College of Forensic Examiners International to publicly voice his organization's support. In June 2012, Dr. Nuccitelli & iPredator Inc. launched their Internet Safety Education & Tech. Predator Investigation website offering site visitors an enormous amount of free information.
Contact:
Michael Nuccitelli Psy.D., C.F.C.
NYS Licensed Psychologist
Ph: (347) 871-2416
Website: http://www.iPredator.co