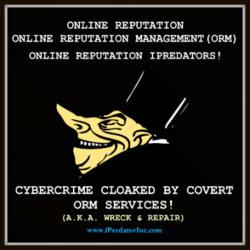 iPredator Inc. is not an Online Reputation Management service provider, although we educate consumers about Online Reputation & ORM in relationship to Internet Safety. Thoroughly research ORM service providers just as you would if buying a car.
Hudson Valley, New York (PRWEB) January 16, 2013
As contemporary society thrives in 2013 at the beginning of the Information Age, small business, big business, professionals and upwardly mobile high school & college-aged students must effectively manage their online reputation. Dr. Nuccitelli has released his Online Reputation iPredators article available for download at no cost. His article educates consumers about online reputation, online reputation management and iPredators engaged in cyber criminal activities under the guise of reputable online reputation management services.
Online Reputation (OR) & Digital Reputation (DR) are synonymous terms used to describe the reputation of an ICT user or business that is disseminated online and available to peers, superiors, loved ones and consumers. This information can be positive or negative and vital to the health, success and reputation of an ICT user or business. Online Reputation is created and sustained by peers, school or work associates, loved ones, acquaintances, consumers, competitors, adversaries, online strangers and iPredators.
Given the widespread growth and expansion of ICT, a positive online reputation is vital to people, communities and business's in order to thrive, survive and for attainment of personal and/or corporate endeavors.
Online Reputation (OR) and the growing risks confronting ICT users and businesses have become increasingly endemic due to the escalating use and significance of the Internet as a communication platform. With the ascent of social media, the formation of OR is an increasingly common process and the practices of Online Reputation Management (ORM) has become crucial for both individuals and corporate entities.
Dr. Nuccitelli states, "iPredator Inc. is not an Online Reputation Management (ORM) service provider, although we educate consumers about Online Reputation, ORM and Digital Footprint in relationship to Internet Safety. My article encourages consumers to thoroughly research ORM service providers just as you would thoroughly inspect a car before buying."
iPredator Inc. & Dr. Nuccitelli support reputable ORM services in light of evidence that past negative information, disgruntled online users, corporate competitors & cyber criminals disparage college seeking children, adults & organizations for financial gain. iPredator Inc. has identified iPredators who pose as ORM service providers, covertly disparage consumers and then solicit them to purchase their ORM services for financial gain without the consumer or business knowing it was they who disseminated the negative online information. A brief description of iPredator is as follows:
iPredator: A child, adult or group who, directly or indirectly, engages in exploitation, victimization, stalking, theft or disparagement of others using ICT. iPredators are driven by deviant fantasies, desires for power and control, retribution, religious fanaticism, political reprisal, psychiatric illness, perceptual distortions, peer acceptance or personal and financial gain. iPredators can be any age, either gender and not bound by economic status, race or national heritage.
iPredator is a global term used to distinguish anyone who engages in criminal, deviant or abusive behaviors using ICT. Whether the offender is a cyberbully, cyberstalker, cyber harasser, cyber criminal, online sexual predator, internet troll or cyber terrorist, they fall within the scope of iPredator. Malevolent in intent, iPredators rely on their capacity to deceive others in the abstract electronic universe known as cyberspace.
To download or print out a free copy, simply visit their website, go to the Online Reputation web page, scroll to the bottom and click on the print/pdf button. For direct connect to the page, click on this highlighted link: Online Reputation iPredators. Visitors are not required to join or offer any personal information to download or print out Dr. Nuccitelli's article.
.
About iPredator Inc.
iPredator Inc. was founded in September 2011 to provide educational and advisory products & services to consumers and organizations on cyberbullying, cyberstalking, sexual predators, cybercrime, internet defamation, cyber terrorism and all forms of cyber abuse. Their goal is to reduce victimization, abuse, theft and disparagement from online assailants. Dr. Nuccitelli has extensive media experience and enjoys educating the public on iPredator Awareness, Internet Safety, Internet Culture, Forensic Psychology & local/national criminal news. Corporate entities & investors interested in discussing a corporate partnership or a seed funding opportunity to assist in fulfilling their mission of a national awareness campaign are encouraged to contact Dr. Nuccitelli directly.
Contact:
Michael Nuccitelli, Psy.D.
Chief Operating Officer
iPredator Inc.
347-871-2416
Website: iPredator.co