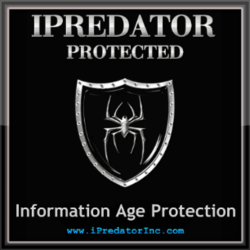 Hudson Valley, NY (PRWEB) November 28, 2012
Unlike human predators prior to the Information Age, iPredators rely on the multitude of benefits offered by Information and Communications Technology (ICT.) Malevolent in intent, iPredators rely on their capacity to deceive and harm others using ICT in an abstract electronic universe. New York State licensed psychologist and certified forensic consultant, Dr. Michael Nuccitelli, is in the final stages of completing his Internet safety and Tech. Predator awareness website.
After 3 years of extensive research and growing recognition of his technological predator construct, iPredator, Dr. Nuccitelli and iPredator Inc. announces their 2013 Internet safety seed funding investment opportunity for corporate entities and investors.
Educators, parents, businesses and all citizens must treat iPredators as a societally toxic phenomenon. To thwart this growing epidemic, it is paramount the United States and global community immediately initiate an awareness and educational campaign. This campaign must be aimed at preventing children, adults and commerce from being targeted and victimized through the use of ICT. To initiate this vital first step, iPredator Inc. is offering a seed funding investment opportunity to corporate entities and investors.
As stated by Dr. Nuccitelli, "I've spent 3 long and obsessed years developing iPredator and all my products, services and national awareness building strategies. Whether the seed funding comes from a corporate entity, investor, for profit or not for profit organization, the mission is to plant a seed of fear in the minds of criminals, deviants, abusers & terrorists who use ICT to victimize others." Central to their strategy, the definition of Dr. Nuccitelli's construct, iPredator, is as follows:
iPredator: A child, adult or group who, directly or indirectly, engages in exploitation, victimization, stalking, theft or disparagement of others using Information and Communications Technology (ICT.) iPredators are driven by deviant fantasies, desires for power and control, retribution, religious fanaticism, political reprisal, psychiatric illness, perceptual distortions, peer acceptance or personal and financial gain.
iPredators can be any age, either gender and not bound by economic status, race or national heritage. Whether the offender is a cyberbully, cyber stalker, cyber harasser, cyber-criminal, online sexual predator, internet troll or cyber terrorist, they fall within the scope of iPredator.
In the 2011 winter issue of the Forensic Examiner, Dr. Nuccitelli's theoretical construct, iPredator, was the feature article. Published by the largest professional forensics education organization in the world, American College of Forensic Examiners International, CEO & founder, Robert O'Block, endorsed Dr. Nuccitelli's theory and national educational strategy in November, 2012. In addition to his theory, Dr. Nuccitelli has designed 26 cyber-attack risk assessments, data collection and educational tools for purchase, in which 13 of them can be taken online. These checklists and inventories assess the risk potential of a child, adult or business being targeted by an iPredator.
From a services perspective, Dr. Nuccitelli has developed an innovative advisory based cyber-attack prevention membership service called, iPredator Protected. Similar in structure to car owners who are AAA members offered by the Automobile Association of America, the iPredator Protection membership service gives consumers immediate access to experts trained in identification, intervention, apprehension and prosecution of iPredators.
iPredator Inc. also offers a variety of educational, training and speaking engagement services that can be performed in person or via web conferencing sites. Lastly, iPredator Inc. can assist law enforcement, court systems and other public safety arenas investigation and iPredator profiling services.
As stated by Tina Church, chief ICT investigator and iPredator Inc. partner, "It is almost 2013 and society has thrived within the Information Age for over three decades. Is it going to take another three decades before people open their eyes to the victimization of children and vulnerable adults in cyberspace?"
About iPredator Inc.,
iPredator Inc.'s goal is to reduce victimization, theft and disparagement from ICT assailants. In June 2012, Dr. Nuccitelli & iPredator Inc. launched their Internet safety education & technological predator investigation website offering site visitors an enormous amount of free information. iPredator Inc.'s full business plan & investment proposal is available upon request. Given their passion to initiate Dr. Nuccitelli's awareness & education strategy, iPredator Inc. and their consultants are receptive to seed funding sources interested in a profit potential model and/or charitable donation.
Contact:
Michael Nuccitelli Psy.D., C.F.C.
NYS Licensed Psychologist
Ph: (347) 871-2416
Website: http://www.iPredator.co
Forensics Blog: http://www.DarkPsychology.co
Internet Safety Blog: http://www.DrInternetSafety.wordpress.com