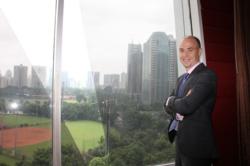 The acquisition of Smart Expo will complement our existing iProperty Group Expo business, currently the largest in our region, and provide us additional property developers as customers
(PRWEB) February 01, 2013
iProperty Group Ltd (ASX: IPP), the owner of Asia's No. 1 network of property portal sites under the iProperty brand (http://www.iproperty.com), today announced that it had agreed to acquire Smart Expo, the region's second largest operator of Property Expo's targeting the highly valuable property developer advertising market. The acquisition will be complement iProperty's existing property expo business, currently the largest in the region.
iProperty Group CEO, Shaun Di Gregorio commented "The agreement to acquire Smart Expo goes to our strategy of engaging with property developers across our region who generate 77% of the total property advertising in the markets in which we operate. Based in Hong Kong Smart Expo is the second largest operator of property expo's in the region and in 2012 hosted property developers to five property expo's, conducting two in Hong Kong, two in Singapore and one in Phuket, Thailand with approximately 140 participating property developer customers."
"The acquisition of Smart Expo will complement our existing iProperty Group Expo business, currently the largest in our region, and provide us additional property developers as customers. The value of running property expo's in the region has proven a very successful strategic approach. We develop long term relationships with property developers and then progressively move their advertising spend onto our market leading network of property portals across Asia," said Di Gregorio.
Di Gregorio went on to say, "The five property expo's conducted by Smart Expo will add to the nine property expo's held by the iProperty Group in 2012. This will provide us with outstanding reach across the region and an unparalleled list of property developer customers. The Smart Expo events in Singapore will complement our existing property expo's in that market with the events in Hong Kong complementing our market leading property portal GoHome.com.hk and the event in Thailand provides us with entry into a new market."
iProperty Group Ltd will acquire Smart Expo for a total cash consideration of AUD2.85 million. This will comprise an initial payment of AUD1.71 million upon completion followed by a payment AUD0.19 million six months after completion. Two additional payments of AUD0.47 million each will be payable at 12 month intervals over a total of 24 months and will be based on Smart Expo achieving agreed performance targets. The vendor of Smart Expo, Mr Hoi Cheung will remain with the business for a period of 30 months following completion. In 2012 Smart Expo had revenues of AUD0.95 million.
---END---
About iProperty Group Limited (http://www.iproperty-group.com)
Listed on the Australian Securities Exchange, the iProperty Group (ASX:IPP) owns and operates Asia's No.1 network of property websites under the iProperty.com umbrella brand.
Headquartered in Kuala Lumpur, Malaysia, the Company is focused on developing and operating leading property portals with other complementary offerings in Asian markets. It currently operates market leading property portals in Malaysia, Hong Kong, Macau, Indonesia and Singapore, and has investments in India and Philippines. With further expansion planned, the iProperty Group is continuously working to capitalise on its market-leading positions and the rapidly growing online property advertising market throughout the region.
Along with 18 property websites across the region, the Group's portfolio also includes the first comprehensive regional commercial property website, CommercialAsia.com, as well as a regional property exhibition business and monthly property magazines in Malaysia and Indonesia.
iProperty Group Network of websites:

Malaysia: iProperty.com.my
Indonesia: rumah123.com and rumahdanproperti.com
Hong Kong: GoHome.com.hk
Macau: vProperty.com
Singapore: iProperty.com.sg
Commercial: CommercialAsia.com
India: in.iProperty.com
Philippines: iProperty.com.ph
Events: expo.iproperty.com
Luxury: iLuxuryasia.com
For media enquiries and interviews, please contact:
Debbie Pereira (Ms)
PR Manager
Mobile: +6016 2334 386
DID: +603 2264 6888
Email: debbie.pereira (at) iproperty (dot) com