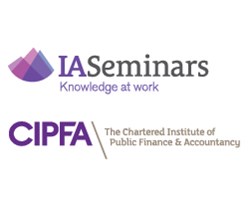 London, UK (PRWEB) July 19, 2013
IASeminars Ltd. and the Chartered Institute of Public Finance & Accountancy (CIPFA) announced the launch of a new joint IPSAS Immersion Workshop (8 days) which will run from 20-30 August 2013 in London.
International Public Sector Accounting Standards (IPSAS) are the internationally respected accounting standards intended for use by the public sector worldwide, and are aligned with International Financial Reporting Standards (IFRSs). They aim to enhance the quality and transparency of public sector financial reporting and also strengthen public confidence in public sector financial management. This is especially important in the context of recent crises in public finance across the world and especially within the Eurozone.
IPSASs are used by an increasing number of public authorities around the world (including national and local governments, agencies and regulatory bodies), and also by many international organisations such as the United Nations and NATO. The European Union is also considering the development of European Public Sector Accounting Standards (EPSAS) that would be based on IPSAS.
The IASeminars IPSAS Immersion Workshop (8 days) will run from 20-30 August 2013 in London, and will be hosted by CIPFA in their prestigious central London Council Chamber. Detailed teaching and materials will be delivered over 8 days by respected and experienced professionals, providing the most comprehensive and up to date review of IPSAS currently available in the market. The course will provide participants with an in-depth understanding of IPSAS theory and application, giving them the skills and expertise necessary to guide a public body as it strives to improve its financial management and align itself with IPSASs.
Participants will also benefit from a unique London experience including a 3-day weekend with a guided tour of the city, unlimited London travel throughout the two weeks, and a gala graduation dinner.
Notes:
International Public Sector Accounting Standards (IPSASs) are issued by the IPSAS Board (IPSASB) for use by public sector entities around the world in the preparation of financial statements. The IPSASB's is committed to keeping IPSASs aligned with IFRSs (International Financial Reporting Standards) as issued by the IASB where relevant, while at the same time meeting the reporting requirements that are specific to public sector entities.
IASeminars Ltd. is an accredited global training provider that offers a broad range of live and online courses on a wide range of international accounting topics (e.g. IFRS, IPSAS) to clients around the world.
CIPFA is a global professional accountancy body exclusively dedicated to public finance. As the global body for public finance professionals, CIPFA is a strong proponent of IPSAS, is represented on the IPSASB, and uses its extensive experience to provide support to organisations moving to IPSAS.