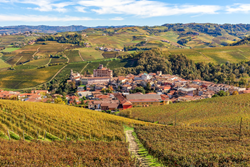 Expo 2015 is a platform for the exchange of ideas and shared solutions on the theme of food.
(PRWEB) March 09, 2015
Today the World's Fair is referred to as the Expo—the Universal Exposition—a six-month long event showcasing culture and technology. Millions of visitors from all over the world can discover elaborate structures, regional cuisine, futuristic inventions, and cultural entertainment. In conjunction with this event, small group tours operator Olde Ipswich Tours is offering a gourmet food and wine tour of the Piedmont and Emilia regions of Italy.
Expo 2015 will take place in Milan, Italy, from May 1 to October 31, 2015. Expo 2015 will center around food and agriculture and, according to its stated purpose, act as "a platform for the exchange of ideas and shared solutions on the theme of food."
Attendees of the 2015 Expo will get the opportunity to taste the signature dishes of over 140 participating countries and learn about sustainability practices of food production and basic human health. Along with the food, the Expo will feature temporary public pavilions, parks, live music and shows, food districts, and more.
The Expo 2015 Destination of Piedmont will double as the backdrop to a 10-night Piedmont & Emilia Gourmet Discovery tour. During the tour, Olde Ipswich Tours and Torino-based tour operator Raggiungere will partner to provide an in-depth look at the food and culture of Northern Italy. Hotel rooms in Milan and tickets to the Expo will be made exclusively available to tour participants before or after the scheduled tour.
To find out more about Olde Ipswich Tours' food and wine tours of Italy, including the regions of Peidmont and Emilia, please visit http://www.ipswichtours.com/small-group-tour/piedmont-emilia-italy-gourmet-discovery.
About Olde Ipswich Tours
Olde Ipswich Tours is a small group tours operator based in Ipswich, Massachusetts, specializing in culturally rich gourmet tours to Europe. For a complete list of upcoming small group tours or to learn more about Olde Ipswich Tours, visit http://www.ipswichtours.com today.