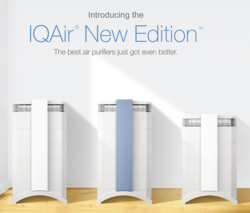 IQAir designed every aspect of their 'New Edition' room air purifiers with performance in mind.
Vernon Hills, Illinois (PRWEB) December 14, 2012
Chicago-based Zadoozy, a national ecommerce company offering top performing products for the home online and on its showroom floor, today announced that website visits are up 48.2 percent since Thanksgiving, while total sales rose a whopping 71.7 percent compared to the same period a year ago. Last year sales were up 14.9 percent.
Zadoozy said that sales of IQAir's New Edition room air purifiers lead the way, spurred by a slew of orders for the IQAir HealthPro Plus air purifier.
"IQAir designed every aspect of their 'New Edition' room air purifiers with performance in mind," says Matt Delfino, a principal and co-founder of Zadoozy. "The must-see video where IQAir President Frank Hammes steps into a chamber full of noxious gasses, protected only by the HealthPro Plus paints an incredible picture of just how far ahead of the pack IQAir is."
With their New Edition room air purifiers, IQAir gives you up to 38% longer filter life. Plus you get up to 25% more clean air and a new level of quietness never before possible.
"Specs like these define a whole new standard for high-performance air purification," says Delfino.
Offering only the best of the best, Zadoozy, a take on the slang term 'doozy,' meaning something that is extraordinary, has tested hundreds of products and markets only those that have passed their toughest tests. The company caters to the needs of busy consumers who don't have the time to comparison shop for themselves and their families, and prides itself on providing superior customer service when helping shoppers select the product that is right for them.
Zadoozy is so confident that shoppers will love their products that they offer a 90-day money back guarantee.
Headquartered at 1000 Butterfield Road, Suite 1029 in Vernon Hills, Illinois, Zadoozy is an authorized dealer for each brand they sell, including Austin Air and IQAir air purifiers, SEBO and Miele vacuum cleaners, Miele and Jura espresso machines, Sunpentown and Stadler Form humidifiers, Hurom slow juicers, and Vapamore and Ladybug steam cleaners. Zadoozy is a proud member of the Safer Chemicals, Healthy Families coalition, a nationwide effort to protect families from toxic chemicals. Shoppers can keep abreast of the latest news with Zadoozy's Twitter and Facebook accounts, @zadoozy and http://www.facebook.com/zadoozy.