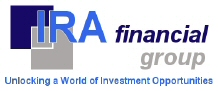 We are excited to announce a strategic partnership between the IRA Financial Group and the BergmanIRAReport.com
Miami, FL (PRWEB) January 19, 2013
IRA Financial Group, the leading provider of self- directed IRA LLC "checkbook control" solutions announces a strategic partnership with the Bergman IRA Report.com. The BergmanIRAReport.com is a website that is devoted to providing current and updated information on the tax rules surrounding individual retirement accounts, including Roth IRAs, SEP IRAs, SIMPLE IRAs, and the self directed IRA LLC. "We are excited to announce a strategic partnership between the IRA Financial Group and the BergmanIRAReport.com, " stated Maria Ritsi, a senior paralegal with the IRA Financial Group.
The IRA Financial Group was created by a group of former tax and ERISA attorneys who worked for a number of the largest law firms in the country, such as White & Case LLP, Dewey LeBoeuf LLP, and Thelen LLP.
TheBergmanIRAReport.com was developed by Adam Bergman is a senior tax attorney at the IRA Financial Group, LLC, the only attorney owned and operated Self Directed IRA LLC and Solo 401(k) facilitator. Mr. Bergman is also the managing partner of the law firm The Bergman Law Group, LLC. Mr. Bergman has been quoted in a number of major publications on the area of self-directed retirement plans. Mr. Bergman is also a frequent contributor to Forbes magazine and Forbes.com on the subject of retirement funds and tax law.
Prior to joining the IRA Financial Group, LLC, Mr. Bergman worked as a tax and ERISA attorney at White & Case LLP, Dewey LeBoeuf LLP, and Thelen LLP, three of the most prominent corporate law firms in the world. He has advised thousands of clients on a wide range of tax and ERISA matters involving limited liability companies and retirement plans for over 10 years. Mr. Bergman received his B.A. (with distinction) from McGill University and his law degree (cum laude) from Syracuse University College of Law. Mr. Bergman also received his Masters of Taxation (LL.M.) from New York University School of Law.
Mr. Bergman is recognized as a leading retirement tax-planning expert and has lectured attorneys on the legal and tax aspects of Self-Directed IRA LLC and Solo 401(k) Plans. Mr. Bergman has also worked with a number of the most prominent passive custodians, including Entrust, IRA Services Inc., and Sunwest Trust, Inc. to help educate their clients on Self Directed IRAs and IRS prohibited transactions. Mr. Bergman is a member of the Tax Division of the American Bar Association and New York State Bar Association.
"Because the Self-Directed IRA LLC and Solo 401(k) Plan structures involve very specific and complex tax and ERISA rules, we feel that it was important for our tax attorneys to have the daily updated information at the finger tips that the BergmanIRAReport.com provides, stated Ms Ritsi.
IRA Financial Group is the market's leading self directed IRA LLC and Solo 401K facilitator. We have helped thousands of clients take back control over their retirement funds while gaining the ability to invest in almost any type of investment, including domestic or foreign real estate, tax liens, precious metals, peer-to-peer lending, new businesses, stocks, mutual funds, foreign currencies, options and much more tax-free!
To learn more about the IRA Financial Group please visit our website at http://www.irafinancialgroup.com or call 800-472-0646.