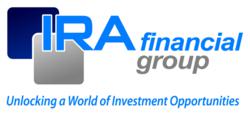 This difficult job market has allowed the IRA Financial Group to be extremely selective when hiring new employees and has helped us bring in talented and highly skilled employees like Ms. Ospina
Miami, FL (PRWEB) August 06, 2012
On Friday, August 3, 2012, IRA Financial Group paralegal Jackie Ospina was featured on PBS Nightly Business Report. The story focused on Ms. Ospina job search in a tough employment market and how she was able to land a job with one of Miami's fastest growing companies - the IRA Financial Group. The feature focused on Ms. Ospina long job search and the methods she used to finally land a paralegal job with a growing company. The report showed how difficult it is to navigate the current job market and how much effort is needed to land a job that matches ones skill set. "We are a fast growing company and are always looking for talented hard working people so when we came across Jackie resume we were excited to have the opportunity to meet with her, " stated Stacy Sanders of the IRA Financial Group. "This difficult job market has allowed the IRA Financial Group to be extremely selective when hiring new employees and has helped us bring in talented and highly skilled employees like Ms. Ospina," stated Ms. Sanders.
The Nightly Business Report featuring Ms. Ospina was titled "Job Market Success Story" and detailed Ms. Ospina diligent job search and the methods she used to land a job with the IRA Financial Group in their Miami office. "We at the IRA Financial Group encourage job seekers to stay positive because there are a lot of growing companies like the IRA Financial Group that are in need of talent, " stated Adam Bergman, tax attorney with the IRA Financial Group.
The IRA Financial Group was founded by a group of top law firm tax and ERISA lawyers who have worked at some of the largest law firms in the United States, such as White & Case LLP, Dewey & LeBoeuf LLP, and Thelen LLP.
IRA Financial Group is the market's leading provider of self directed IRA and solo 401(k) plans. With offices in New York City and Miami, IRA Financial Group has helped thousands of clients all across the United Stated take back control over their retirement funds while gaining the ability to invest in almost any type of investment, including real estate tax-free and without custodian consent.
To learn more about the IRA Financial Group please visit our website at http://www.irafinancialgroup.com or call 800-472-0646