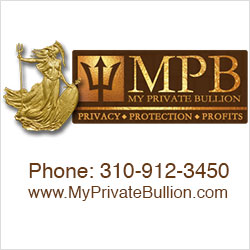 Most folks see the fee percentage as a small number, and have been conditioned to accept it without too much thought," says Tom Kelly
Culver City, CA (PRWEB) April 29, 2013
In its ongoing mission to expose the truth about the retirement fund industry, My Private Bullion (MPB) announces today that it has discovered data showing that the Mutual Fund industry is costing investors and savers a lot more than had ever been previously thought.
Retirement plans like IRA's and 401-K's are naturally long term vehicles. Over a period of about 50 years, a managed mutual fund that charges just 2% in fees can wipe out up to two-thirds, or 66%, of the value of that account. In addition to management fees, a typical IRA account holder is subjected to a fee structure that includes but is not limited to account set up fees, annual maintenance fees, processing fees, transaction fees, purchase fees, exchange fees, funding fees and storage fees.
The Company believes this announcement will serve to further expose the truth behind just how costly a "typical" retirement plan can end up being for average people. "Most folks see the fee percentage as a small number, and have been conditioned to accept it without too much thought," says Tom Kelly, sales manager and retirement plan specialist at MPB. He adds "but over the time of a retirement plan, this seemingly small number adds up to real wealth elimination." Comments cited recently from economist Robert Hiltonsmith explain that the average American household will lose about $155,000 of what they would have otherwise saved to mutual fund managers.
According to MPB managing director, Alex Viera, "At MPB, we show clients how to beat and eliminate any management fee when investing your retirement plan in physical gold and other precious metals. This way when you actually are taking your distributions, you end up having more money, not less." A lot of retirement plan owners are actually unaware of the fact that they can own physical gold and other precious metals in their retirement plans. Mr. Viera adds, "this is largely due to the Mutual Fund Industry not wanting to admit to average Americans that you don't have to put your retirement future in the hands of an unreliable stock market."
To learn more about retirement plan investing in gold and other precious metals, please visit http://www.myprivatebullion.com or call 310-912-3450.
ABOUT MY PRIVATE BULLION
At My Private Bullion, individual service, asset protection strategies and wealth management solutions are the foundation of our business. The company also belives that today's investors need a protection plan and a profitability plan that the rest of the precious metals industry is simply not providing.
My Private Bullion's specialty is finding specific coins for buyers that will increase over time, well above bullion coins of similar prices. The company's services include individuals, IRA's, 401K's and entire company retirement plans. MPB's commitment is to learn an investor's individual goals and objectives, and tailor personalized solutions to meet their specific needs.