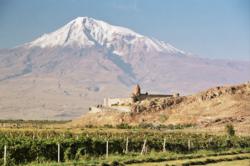 If you like to avoid the summer crowds, fall and winter are great times to travel
Seattle, WA (PRWEB) July 20, 2012
While many might find themselves in the midst of a scorching heat wave, autumn will be here in no time, and trudging through the "dog days" of summer is easier when an exciting adventure awaits. Whether riding a camel over a desert dune, sampling exotically-spiced delicacies and robust wines, traveling in style through Russia's imperial splendor, or experiencing the flourishing New Europe, MIR Corporation has something to offer every travel enthusiast. For more information on fall and winter travel options, call 1-800-424-7289 or email info(at)mircorp(dot)com.
"If you like to avoid the summer crowds, fall and winter are great times to travel," said founder of MIR Corporation Douglas Grimes. "We are also accepting reservations for selected 2013 scheduled group tours at 2012 prices for a limited time."
September and October is a fabulous time to explore Central Asia and Iran, with comfortable average temperatures of 60° to 80° during the fall months. The beautifully tiled Silk Road oases will still reflect the blue of the desert skies, and the hospitable locals will be emerging from their shaded homes to shop and chat at the boisterous outdoor markets. These two trips embody this relatively mysterious region.
•Silk Route Odyssey: Caravan Across Uzbekistan
Valleys, Desert, Bazaars and Oases
September 14-28, 2012
•Once Forbidden Lands of Central Asia & lran
From Tashkent To Tehran via Turkmenistan
October 29-November 17, 2012
Inhale the fragrance of Bulgaria's Valley of the Roses and venture backstage at a Romanian theater to meet and dine with the actors. Or opt to traverse seven Balkan countries in 16 days, from the Dinaric Alps down to the blue Dalmatian Coast of Croatia, lying warm under the sun's slanting rays. Or you can do both: These trips are scheduled to fit back to back and flow seamlessly together.
•Bulgaria and Romania: Frescoes and Fortresses
Through the Valley of the Roses to the Painted Monasteries
September 4-19, 2012
•Balkan Odyssey: Crossroads of Cultures
A Seven Nation Journey Through History
September 20-October 5, 2012
After the summer holidays are over, experience off-season travel in Russia. The halls of St. Petersburg's Hermitage feel roomier and Moscow's Red Square offers wide open space to wander. The street fair atmosphere of the Arbat is more intimate. The opera and ballet season begins and Russian cosmonauts prepare for launch.
•Classic Western Russia: Moscow, Novgorod, St. Petersburg
An Insider's View of Russia's Great Cities
September 28-October 7, 2012
•Inside the Russian Space Program
From Star City to the Baikonur Cosmodrome
October 9-18, 2012
September in the Caucasus Mountains balances on the cusp of summer and fall. This is a perfect time to appreciate the South Caucasus countries of Georgia, Armenia and Azerbaijan. Fall foliage is at its peak, and in the valleys it's getting close to harvest time. The grapes for the famous Georgian wines are almost ready to be picked, and tables are overloaded with fresh produce and warm breads.
•American Friends of Georgia: Journey to Georgia
Go beyond the renowned tourist sites to visit some of the humanitarian projects that American Friends of Georgia supports.
September 9-18, 2012
•Treasures of the South Caucasus
Classic Survey of Azerbaijan, Georgia and Armenia
September 23-October 7, 2012
About MIR Corporation:
MIR Corporation, whose name means "peace" and "world" in Russian, has specialized in Russia (and neighboring countries) since 1986. Offering scheduled and custom journeys to Russia, along the Trans-Siberian and across the Silk Route, MIR's Seattle-based experts design imaginative trips that take travelers far from the familiar, and work closely with local affiliates in Western Russia, Siberia, Ukraine and Uzbekistan to carry them out. MIR has twice been named one of National Geographic Adventure's "Best Adventure Travel Companies on Earth," and is a preferred operator for museum, alumni and special interest organizations across the country.