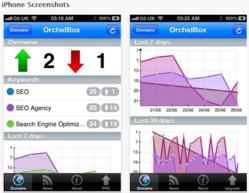 Webmasters and SEOs will love it..
(PRWEB) July 14, 2011
Innovative online marketing London agency Orchid Box have developed the 'iRank' app, the first keyword tracking app developed in the UK for the iPhone, iPad and the iPod Touch. iRank is an intelligent tool that enables users to track their Google rankings at a click of a button.
iRank was developed from an in-house API used by Orchid Box to monitor keyword rankings that has been successfully migrated to the iPhone platform. Trials have thus far proved successful and Orchid Box MD Frank Vitetta is confident about its ability to provide a reliable and useful service:
"..iRank has the ability to track literally hundreds of keywords for many different domains, so I'm confident webmasters and SEOs will love it ... ".
Frank had the idea of a ranking app after having tried the very few available on the app store.
"I couldn't get them to track more than 3 keywords, adding keywords was painful and there was no historical data available".
iRank is the first SEO app in the UK that allows users to track keywords of their choice, measuring how high a website ranks within Google's search engine ranking positions (SERPs). Set up and use of iRank is quick, simple and even easier to manage, providing the perfect platform to track keyword ranking progress on the go, wherever you are.
Simply add the domain name and 10 keywords of your choice and iRank will provide you with position and will chart search engine positions over 3 months on a clear graph which is more than enough to understand if your keyword pool is doing well or you need to change SEO strategy. Access the iRank App on the Apple App Store:
From the US here: http://itunes.apple.com/us/app/irank-seo/id429589269?mt=8
From the UK here: http://itunes.apple.com/gb/app/irank-seo/id429589269?mt=8
Coming Soon:
The iRank Pro version offers an unlimited keyword tracking facility and will be launched in a few months.
About Orchid Box:
Orchid Box are an SEM consultancy London specialising in Online Marketing, Search Engine Optimisation, Pay Per Click (PPC) and web design services that help to improve clients website performance in paid and organic search. Orchid Box wanted to develop the iRank app as they hope this will provide webmasters and Internet professional with a practical method of tracking their website metrics.
###