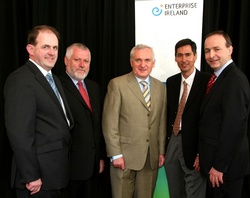 Irelandin1.com is pleased to be one of the booking and content providers to the independent travellers who use the search mechanism on toureagle.com
CAPE TOWN, South Africa (PRWEB) May 11, 2008
"We are pleased to bring this great travel planning resource to the 2,2 million Irish Internet users and 8 million travellers visiting Ireland each year," said Pierre Kleinhans, CEO of the Toureagle Group.
The service allows users to set up a single destination search which finds a comprehensive range of suppliers. The search result is a tailormade itinerary, featuring providers of accommodation, restaurants and activities for each town. Users are connected to online booking agents and travel services including car rental, flights, ferries, trains and taxis. Maps and directions for the itineraries are provided and relevant books can be ordered online.
"A single search in toureagle.com will give travellers access to a range of relevant providers such as they could previously only access through many keyword searches on general search engines," said Kleinhans. "Planning for a trip in Ireland and Northern Ireland just became easier."
The large index of activity providers in each town means toureagle.com is also a great local search tool. Local providers ranging from golf courses to horse riding venues are placed at travellers' fingertips. The toureagle.com user simply selects the required town and activity type in the search dropdowns and navigates from the resulting itinerary.
"Toureagle.com is a welcome addition in the tourism distribution armoury of Ireland," said Victor Garland, Irish director on the board of Toureagle SA Limited, who has also served on the Dublin Tourism board. "When results incorporate the breadth of the service offerings in the destination as coherently as toureagle.com does it is a happy day for travellers and all providers in a destination."
Garland is also commercial director of In1solutions, who operate Irelandin1.com. "Irelandin1.com is pleased to be one of the booking and content providers to the independent travellers who use the search mechanism on toureagle.com," he said.
"The toureagle.com editorial and partnership teams have established excellent coverage of destination Ireland," continued Kleinhans. "As a company we express our thanks to the many participating providers. We will continue to expand our content offering through partnership and research."