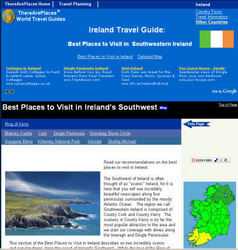 Vacationing in Ireland is a popular choice with travelers from around the world
Laguna Hills, California (PRWEB) August 5, 2008
ThereArePlaces announced today the launch of a unique, concise, online travel guide to the best places to visit in Ireland. The new Ireland Travel Guide _title_Best Places to Visit in Ireland, which is a comprehensive, illustrated and easy-to-navigate description of Ireland's leading attractions, complements the extensive selection of Destination Guides offered at the ThereArePlaces website.
"Vacationing in Ireland is a popular choice with travelers from around the world," said Mike Dobson, President of ThereArePlaces. "Visiting the Emerald Isle provides a chance to explore the fabled beauty of Ireland's landscapes, while interacting with the unique culture of the Irish, experiences that most travelers find inviting, attractive and very satisfying. From Dublin to the Ring of Kerry to Galway and the Connemara, a trip to Ireland is an opportunity to visit towns and countryside immortalized in song, stage, literature and history." However, Dobson adds, that "… for most travelers, planning their vacation in Ireland, takes longer than the vacation."
While Ireland is an easy country to travel due to its size and compactness, it takes a great deal of research to find the attractions that actually merit a visit - the ones that will bring a smile when you think back on your vacation in Ireland. The experienced staff of traveler writers at ThereArePlaces focused their efforts on finding and evaluating Ireland's leading destinations. The Company's new guide to the Best Places to Visit in Ireland includes separate sections with specific recommendations on the best places to visit in Dublin, the Southwest, the West, the Southeast and the North, including attractions in Northern Ireland. In addition, the descriptions include hyperlinks to the official websites of Ireland's most popular attractions so you can determine opening hours, current fees, and other information that is invariably out of date in printed guidebooks.
The ThereArePlaces Guide to the Best Places to Visit in Ireland includes concise descriptions of the island's top attractions, as well as beautiful photographs of what you will see when you get there. In addition, ThereArePlaces' recommended best places to visit in Ireland are displayed on detailed, regional maps _title _ detailed maps of Ireland's best places to visit that you can choose to view as traditional road maps, color satellite images, or as a shaded terrain models to help you see the "lay of the land" before you travel. You can use these maps to plan routes between locations, determine mileages, travel times and potential itineraries. In addition, ThereArePlaces' Ireland Guide includes purpose-built, overview maps for touring the Ring of Kerry and the Dingle Peninsula, two of Ireland's most popular vacation drives.
If you own a travel business based in Ireland, advertising space in ThereArePlaces Ireland Travel Guide is available. For more information, visit ThereArePlaces_title_ advertise on ThereArePlaces.
About ThereArePlaces
ThereArePlaces is managed by Dr. Michael W. Dobson, a travel industry professional and avid traveler, who helped to create some of the world's best-selling travel publications during his 13 years as the Chief Cartographer and Chief Technologist for Rand McNally & Company. ThereArePlaces is a publisher of travel information, not a travel service provider. The Company does not sell travel goods, make travel reservations, or provide ticketing services. As put by the Company president Mike Dobson, "Our commitment is to provide expert, unbiased, travel advice that might help you take the journey of a lifetime."
ThereArePlaces is a property of TeleMapics, LLC, a business focused on Geospatial Information, including travel, tourism, and other location based services (http://www.Telemapics.com).