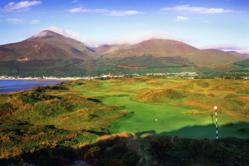 Eddie Gilbertson, Director at Golf Vacations UK said "It does not surprise me that Royal County Down was placed first in the rankings and that the South West has 5 courses in the top 10."
Tralee, Ireland (PRWEB) January 30, 2013
Republic of Ireland and Northern Ireland Rankings
Golf Course Ranking lists are always compiled from opinions gained from different sources and as such will subsequently lead to lengthy debates on their accuracy. Golf Digest Ireland's latest top 100 list will be no different.
Golf Vacations UK are is company that offers the top 10 courses within their golfing packages. Eddie Gilbertson, Director at Golf Vacations UK said "It does not surprise me that Royal County Down was placed first in Irelands Course Rankings and neither does it come as any shock that the South-west has 5 representatives in the top 10. The south west is probably the most popular area for our clients who mainly come from the USA."
Portmarnock Hotel and Golf Links raised eight places to 23rd thanks to some major course improvements ahead of its 20th birthday celebrations next year, leaving nearby Royal Dublin one place behind them. Portmarnock Old Links, which is another close neighbour, maintained its popularity by taking second place.
The rankings cover both the Republic and Northern Ireland. The Republic of Ireland south-west area (Munster) dominated the top ten with 5 representatives in the top ten rankings. Waterville (4th), Lahinch Old (5th), Ballybunion Old (6th), Tralee (8th) and Adare (10th).
The North of Ireland took 2 of the top 3 places with Royal County Down(1st) and Royal Portrush (3rd) and they were well supported by Baltray County Louth (9th). The Republics east coast took the other two places with Portmarnock Old an excellent 2nd and The European Club coming in 7th. The biggest changes occurred lower down the list with Ceann Sibeal (Dingle) soaring 17 places to 81st and the very surprising fall of the Killeen Course at Killarney from 27th to 33rd, just 16 months after hosting the Irish Open for the second year in a row.
Atlantic Coast Challenge to take place in Ireland's North West in July 2013
Everyone knows Ireland's big links courses. Royal County Down, Royal Portrush, Portmarnock, Ballybunion and Waterville, which are on every golfer's bucket list and all in the top 10 courses in the Republic and Northern Ireland, However; there are three gems in the north-west that offer an unforgettable golfing experience - Carne Golf Links, Enniscrone and County Sligo.
These three courses will, in July 2013, host the third Atlantic Coast Challenge. This will take place during a three day festival that offers golfers the opportunity to play on these top class courses for a vastly reduced cost on the normal green fees. Excellent prizes are also available during the 3 day competition.
David O'Donovan, manager of County Sligo Golf Club, said: "We are offering a prize fund and have many generous sponsors across the Northwest. This competition offers the avid golfer a chance to experience three of the best links courses in Europe during the height of summer, when theses courses are at their very best. "The local communities surrounding the courses offer true Irish hospitality. 100 teams from as far away as Spain and the USA took part in 2012 and a bigger turnout is expected in 2013.
Golf Vacations UK are authorised Tour Operators who organise golf and accommodation packages to Ireland, Scotland, England and Wales, and are now in their 14th year of providing what they class as a personal service to their clients. The company are family owned and run and do not advertise as such but rely on repeat business and referrals. The company is well known within the golf tourism industry in the UK and pride themselves on offering value trips with an enhanced personal service for thei clients.
To learn more about the company or to view some of the packages they can offer visit http://www.golfvacationsuk.com or contact Eddie or Graeme Gilbertson on 1 888 209 4094. Email details and contact form are also shown on the web site.
About Golf Vacations UK
Founded in 1999 and officially incorporated in 2000 Golf Vacations UK is owned and run by Eddie Gilbertson and Graeme Gilbertson who are the 2 sole Directors of the company. From humble beginnings and thanks to many repeat clients, the company has grown since 2000 into one of the major incoming Golf Tour Operators for the UK and Ireland. They are preferred tour operators for several prominent hotels including the 5 star Old Course Hotel, Golf Resort & Spa in St Andrews and Culloden House in the Highlands which has received accolades and awards as one of the country's leading Country House Hotels.
Media Contact
Eddie Gilbertson
1 888 209 4094
http://www.golfvacationsuk.com