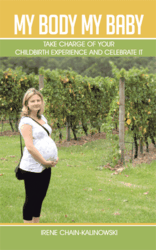 Auckland, New Zealand (PRWEB) May 14, 2013
Childbirth. This experience is one of life's grandest miracles. However, when her niece lost control of her childbirth experience, coupled with the escalating medical interventions and Caesarian Section rates, not to mention the poor diet and lack of exercise prevalent in today's western culture, it becomes apparent to seasoned midwife, nurse and author Irene Chain-Kalinowski that somehow women have lost faith in their ability to give birth. The traumas of the uncelebrated childbirth of her niece impelled Chain-Kalinowski to publish her new book, aptly titled My Body My Baby: Take Charge of Your Childbirth Experience and Celebrate It.
"Healthy women will produce healthy babies and there will be celebration of birth globally," states Chain-Kalinowski. "It is not only women who need to regain faith in childbirth, but our medical profession, needs to do just that. So when women take care of themselves there will be less need for interventions and we will see more homebirths and celebrated births as our children become confident in the gift that was bestowed upon us, the ability to birth. Women are in fact the driving force of maternity services and they need to reclaim 'Birth.'"
Chain-Kalinowski's book gives women the holistic tools to birthing well and it gives them an understanding of the normal physiological process of childbirth. It explains how they need to take responsibility for their health. It also teaches women how to deal with some of the discomforts of pregnancy and avoid interventions. That—together with continuity of care and carer, and with a shared philosophy of supporting the normal physiological process of childbirth—gives more celebrated experiences.
The book starts with Chain-Kalinowski's grandmother's home birth in the village. Then it takes readers on a journey across three continents: Europe, the Middle East and New Zealand. It offers a vicarious experience of the realities of maternity care by case scenarios. Readers will witness the celebrations, where women have taken charge of their health, as well as the pitfalls when they have not. It highlights global concerns about the Caesarian section epidemic, and the cause of Face of Birth and Freedom for Birth campaigns.
Experiential, insightful and empowering, My Body My Baby: Take Charge of Your Childbirth Experience and Celebrate It is an indispensable companion for expectant mothers. Chain-Kalinowski has indeed re-echoed the voices of countless women throughout history, calling for every woman to be able to choose where she births, to have control of her experience, and to be given choices.
"You need to be well informed throughout your entire childbirth experience and only then can you make healthy choices," adds Chain-Kalinowski. "After all it is 'Your Body and Your Baby.'"
For more information on this book, log on to http://www.Xlibris.co.nz.
About the Author
Irene Chain-Kalinowski was born on the 21st of July 1956 in Rotherham, South Yorkshire, England. Out of Rotherham School of Nursing, she became a Registered Nurse in 1977 and a Registered Midwife in 1979. She also got her Diploma from Auckland College of Classical Homeopathy in 2001, and her Postgraduate Certificate in Health Sciences (Health Professional Education) from AUT University Auckland in 2003. She has been a practicing midwife for 32 years, of which eight years were spent in the Middle East—National Guard Hospital, Jeddah; Security Forces Hospital, Riyadh; Awali Hospital, Bahrain; Royal Hospital, Oman. She worked two years in New Zealand Greenlane Hospital, Auckland; 15 years in Auckland (independent midwifery practice); and seven years in the United Kingdom; Rotherham Hospital, South Yorkshire; Pilgrim Hospital, Boston Lincolnshire; North Tyneside General Hospital, Tyne and Wear.
My Body My Baby * by Irene Chain-Kalinowski
Take Charge of Your Childbirth Experience and Celebrate It
Publication Date: March 14, 2013
Trade Paperback; $34.99; 276 pages; 978-1-4836-0762-7
Trade Hardback; $54.99; 276 pages; 978-1-4836-0763-4
eBook; $3.99; 978-1-4836-0764-1
Members of the media who wish to review this book may request a complimentary paperback copy by contacting the publisher at 0800-891-366. To purchase copies of the book for resale, please fax Xlibris at (09) 353-1455 or call 0800-891-366.
For more information, contact Xlibris at 0800-891-366 or on the web at http://www.Xlibris.co.nz.