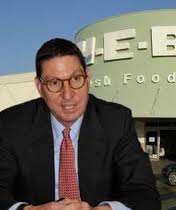 Our region attracts professionals from every part of the world who recognize the warmth and friendliness of the citizenry
Houston, Texas (PRWEB) February 01, 2013
The International Resource Group (IRG) today announced Scott McClelland, President of H-E-B Houston will be the keynoter for its first educational business conference, Steps for a Successful Transition into the Houston Market. McClelland is the President of H-E-B's Houston Division. He is responsible for H-E-B's operations in Houston, east Texas and at Mi Tienda, H-E-B's Latino focused format located in South Houston. He will address the topic, H-E-B and Texas Small Businesses: A Recipe for Success.
Co-founder of IRG, Jason Jimenez, invites and welcomes business owners and foreign investors who have an interest in establishing, investing in, or acquiring a U.S. business. Persons who work in an environment where they come into contact with domestic or foreign entrepreneurs who need reliable information are also encouraged to attend.
The event will be held from 7:30 a.m. to 1:30 p.m. on Wednesday, February 6, 2013 at the Lone Star College Conference Center, 5000 Research Forest Drive,The Woodlands, Texas 77381
Those wishing to attend can register at http://www.irghouston.org/successconference.
The International Resource Group's educational business conference will connect foreign and domestic entrepreneurs and address frequently requested topics about investing in and establishing U.S. businesses. Because the transition to life in the U.S. is not always easy, this conference will introduce IRG's accessible network of culturally sensitive professionals dedicated to encouraging successful U.S. business ventures.
Two of the presentations are: "Protecting Your Investment: Navigating Employment and Immigration Laws in Your U. S. Company" and "The 2013 Global Economic Outlook and How It Will Affect Your U.S. Business."
McClelland said, "I am pleased to participate as a speaker at IRG's Educational Conference and join IRG in welcoming foreign business owners to the greater Houston area. Being a place of great diversity, our region attracts professionals from every part of the world who recognize the warmth and friendliness of the citizenry and the genuine opportunities for success this area has to offer."
Jimenez said, "I helped establish IRG in order to make the services of the most distinguished professionals and their affiliated companies available to international business leaders seeking to invest in our Texas economy. By providing the best possible support, our foreign clients are assured of the maximum opportunity for success while at the same time strengthening our local community."
IRG also welcomes U.S. businesses who are interested in exploring partnerships. "Through IRG we look forward to growing and strengthening our business community, discovering opportunities and supporting many new ventures on the road to success. This educational conference will serve as a first step."
Jimenez invites foreign business owners who desire to enter the U.S. market and those who work in an environment where they come into contact with professionals who need reliable information to register for the conference at http://www.irghouston.org/successconference . Seating is limited, and those interested in attending are urged to register immediately.
###
Established in 2011, IRG is an innovative and creative association of multi-disciplined experts who work with foreign and domestic investors from the initial inquiry stage to assisting clients with an array of valuable resources including asset protection, financing, immigration, legal, tax, construction and other services. For details about IRG visit http://www.irghouston.org or call 1-800-994-0143.
---------------------
Founded in 1905 in Kerrville, Texas, H-E-B is the 11th largest grocery chain in the United States with more than 71,000 employees and 325 stores in Texas and northern Mexico.