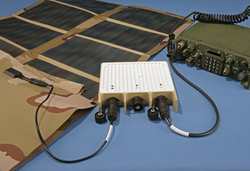 "Our goal is to help the military envision and create the lightest and most efficient expeditionary energy solutions that will harvest, store and redistribute power."
Irvine, CA (PRWEB) November 18, 2010
Iris Technology, an Irvine, CA-based defense contractor specializing in military power systems and space electronics, is providing green "StarPower" to the United States Marine Corps. Iris has been awarded close to $11 million in contracts to provide its alternative energy technology for a major Department of Defense (DoD) program – Solar Portable Alternative Communications Energy System (SPACES). Additionally, Iris is completing the base phase of development for another program – Ground Renewable Expeditionary Energy Network (GREEN). On GREEN, Iris is teaming with prime contractor HDT Engineered Technologies, an industry leader in the design, development and production of state-of-the-art, fully integrated deployable solutions such as shelters, generators, environmental control systems, heaters, and CBRN filtration systems.
SPACES is designed for use by an individual in tactical and remote environments. It converts solar energy to support operations, power communications equipment, charge batteries, and run commercial accessories. More than 400 SPACES kits were delivered in 2009, and over 1,500 will be fielded in 2010 with more orders anticipated for 2011. The kits are customizable and scalable, and Iris can configure them to deal with variables such as unique power needs, applications, and visibility (camouflage).
GREEN represents the next step beyond SPACES for the Marine Corps. GREEN extends the proven man-portable SPACES solar-power capability from 300 watts to 3 kilowatts, increasing its applicability from supporting a single person to powering a base camp "green" power solution. GREEN units are also customizable. The HDT and Iris solution for the GREEN program debuted at the Modern Day Marine Expo September 28-30 in Quantico, VA.
One of the most dangerous aspects of any combat operation is transporting fuel and batteries to the field for energy dependent power sources. Our team's commitment to providing reliable solar energy sources in remote areas serves to protect US troops from harm.
"Any technological improvement that eases the load on the logistics chain by reducing the volume and mass of batteries and fuel that must be deployed saves lives - literally. SPACES and GREEN are two products that provide much-needed logistics relief to help solve this problem. We are extremely proud to bring these exciting new capabilities to our warfighters in the field," said Dr. Carl Kirkconnell, Iris Technology CTO.
HDT Engineered Technologies' CTO John Creed echoed that sentiment. "Our goal is to help the military envision and create the lightest and most efficient expeditionary energy solutions that will harvest, store and redistribute power."
Applications for SPACES and GREEN can be found not only in all branches of the military, but in any situation where power is needed in a remote location. Iris hopes to interest first responders with FEMA, Homeland Security, border protection units, non-governmental relief organizations, and fire and police departments in this green technology.
Units are available for demonstration purposes. To discuss how this technology can benefit your operation, please call Elisabeth Miller at (949) 975-8410 or visit IrisTechnology.com.
About Iris Technology
Founded in 1986, Iris Technology is the premier integrator of reliable tactical power systems for the military. Iris Technology also supports commercial and strategic space operations with electronics and electro-optic system components. Iris has delivered over 11,000 products to destinations worldwide, has seen a 50% increase in annual revenue growth for the past half decade, and has been recognized by the Defense Logistics Agency (DLA) as a Best Value Contractor since 2004.
###