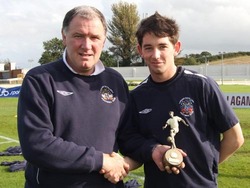 We met with Allen's representatives in London and have been aware of the player and his ability over the last 2 years. He has real talent and we are looking at the situation.
London, UK (PRWEB) January 29, 2009
The Lisburn Distillery FC prolific forward, Curtis Allen (20) is a Northern Ireland international (U21/U23) known as the Irish Rooney, who has scored over 40 goals ( 26 pre season goals which is a Northern Ireland record ) and 17 goals from the start of the JJB Premiership season(No penalties included) during 2008/9.
Allen, has been called to make his debut for the Northern Ireland (U21) team to face Wales on Feb 10th 2009. He has also been named Young Player of the CIS cup 2008/9
The Lisburn Distillery FC footballer became the first player to win three consecutive Player of the Month awards in a season, at the club in over 25 years, during the season 2008/9. Allen is the one of the leading goal scorers in the JJB Premiership League. His all round play, attacking teams, support play and free kicks have alerted a number of top clubs in Europe.
Allen scored another Beckham like world class free kick from 30 meters in the CIS Cup semi final last week, in the last minute of the match, to move the game into extra time against Newry FC, in a game Distillery lost 3-2.
A number of clubs have been monitoring Allen during the current season and will looking to do some business by the end of the 2008/9 season. Clubs interested in Allen are:-
Liverpool FC, WBA, Seville FC ,Tottenham, Valencia, Aston Villa, Doncaster Rovers, Aberdeen ,Fulham, Watford and Bristol City.
Valencia, Sporting Director, Amedeo Carbone, said "We met with Allen's representatives in London and have been aware of the player and his ability over the last 2 years. He has real talent and we are looking at the situation. "
In January 07 AFC Bournemouth played a friendly against a full strength Everton Premiership side and Kevin Bond ( Manager ) ,decided to keep the young Bournemouth Forward, then 18, for cover after seeing him perform.
Bond who is now Assistant Manager at Tottenham FC, praised Allen for technical skill and professionalism but advised him to beef up, if he wanted to make the big stage. At the end of the season 2006/7, Bond, gave the motivation to Allen to get his body into top shape after being released by AFC Bournemouth, due to financial constraints.
Booby Hope, chief scout at WBA commented " We were altered to Curtis Allen a few years ago but thought he need a few years to fill out. We've known Allen is player with Premiership class and thus have been taking an active interest in him. "
JJB Premiership League club Lisburn distillery is the oldest Northern Ireland clubs and Martin O'Neil avfc.premiumtv.co.uk/ [( Manager of Aston Villa FC )] was one of its famous players. It is ironic that Aston Villa FC and Doncaster Rovers FC were locked in battle in the FA cup over the weekend and are two of the favorites to sign Allen this season.
Manchester United FC and Northern Ireland defender, Johnnie Evans commented, "Allen can make a big impact in the Barclays Premiership. He has excellent pace / strength, technique and is a natural left sided finisher. Curtis, is very aggressive and hungry on the pitch which is a trait of many Irish players, plying their trade in the Premiership.
It is these qualities that have made Gerry Armstrong top European soccer scout and commentator has been ( Eurosport & Sky Sports ) raving about Allen, over the last 2 years.
Armstrong, has one of the best footballing brains in the business and has discussed the talented footballing potential of Allen with football mangers throughout Europe.
Paul Kirk (Lisburn Distillery, Manager) has mentored the young Allen since the age of eight knows him inside out and has said on numerous occasions that Allen is destined for the top. But is not for sale!
Allen said "I've got a contract till the end of next season with Lisburn Distillery FC and I've put all the transfer rumours to one side. I'm just concentrating on my game from week to week, for my club. Distillery have been fantastic and my form has been very good, but I've got a great bunch of lads at to thank for that. "
With Curtis Allen now looking to face Wales in his debut for the Under (21) Northern Ireland team on February 10th 2009, it's just another day in football paradise for the young man from Belfast.
For more information go to UEFA , bbc.com or Lisburn Distillery FC
###