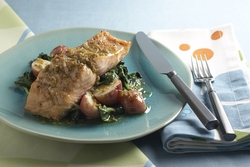 There's more depth of flavor in them. I like the richness of this butter
(PRWEB) March 6, 2008
According to the Irish Dairy Board, they're not eating corned beef and cabbage in Ireland's fine restaurants. Irish chefs are producing fare to rival the best of Europe, incorporating locally crafted ingredients such as Kerrygold butter, in sophisticated preparations.
Kerrygold butter is made from the milk of cows that graze on Ireland's lush pastures on small family farms. The beta-carotene from the grass adds a rich natural gold color to the butter.
Ireland has been renowned for its butter over centuries. The Cork Butter Museum in Cork City, Ireland, can trace the history of cattle in Ireland as far back as 3500 BC. The Cork Butter Exchange, a market created in 1769, was the largest butter market in the world, exporting across Europe and America.
Today, Kerrygold butter continues to be made with milk pooled from Ireland's local farming co-operatives and transported to co-op creameries. The resulting Kerrygold butter is the number one selling imported butter in the United States. It is widely available through supermarkets and specialty stores.
Irish star chef Paul Flynn, owner of the Tannery in Dungarvan, County Waterford, is an advocate of Kerrygold butter. He uses salted Kerrygold butter exclusively in his restaurant kitchen. "There's more depth of flavor in them. I like the richness of this butter," he said.
Crafted in the style of all premium European butters, Kerrygold's higher fat content gives the butter a distinctive richness. Two styles are available: salted sweet cream butter and unsalted cultured cream butter, which has a nuanced acidity. The foil wrapper preserves freshness.
Flynn transforms salted Kerrygold butter into a simple-to-make sauce of remarkable flavor complexity, with the addition of just two other ingredients, capers and raisins. This sauce can dress up broiled fish fillets, poached or roasted chicken, or for a splurge, grilled scallops, perfect entrée choices to celebrate St. Patrick's Day.
For a true Irish menu start with a cheese board of Kerrygold Aged Cheddar, Dubliner, Blarney Castle and Ivernia cheeses served with Irish soda bread, chutney and a scattering of toasted nuts.
For more Irish recipes, visit http://www.kerrygold.com/usa.
CAPER & RAISIN BUTTER SAUCE
½ cup (4 ounces) Kerrygold Pure Irish Butter
¼ cup drained capers
¼ cup golden raisins
In small saucepan, combine butter, capers and raisins; heat over medium heat just until butter simmers. Remove from heat; let stand to soften raisins and cool slightly, about 5 minutes. Process mixture in blender or small food processor until well blended. Remove to small bowl; keep warm until ready to serve. Makes about 1 cup butter.
###