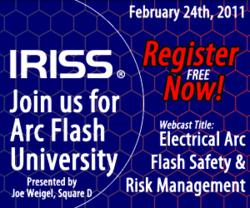 For the past four years, Arc Flash University has been the most popular Webcast series ever produced by Plant Engineering, and has been seen in more than 60 countries.
Bradenton, FL (Vocus/PRWEB) February 13, 2011
IRISS Inc., global leaders in designing and manufacturing infrared (IR) windows announced they have signed an agreement with Plant Engineering to become a sponsor of Arc Flash University again in 2011. In addition, channel partners UE Systems, recognized as the worldwide leader in the technology of airborne ultrasound and Schneider Electric, global specialists in energy management solutions, have also signed to become co-sponsors of Arc Flash University 2011.
"Plant Engineering's Arc Flash University gives registrants a commercial-free venue to hear more about topics related to safety in electrical maintenance like: arc flash mitigation strategies, implications of standards and regulations surrounding energized electrical inspections and more," said Martin Robinson, CEO IRISS, Inc.
"Bringing together three leaders in the funding of a production of a webinar series of this caliber is tremendously exciting," continued Robinson. "The addition of globally recognized thought leaders like Joe Weigel from Square -, Schneider Electric; Mike Doherty from Infrastructure Health & Safety Association; and H. Landis (Lanny) Floyd from DuPont, makes these 3 webinars possibly the most important and relevant webinars available to many of the electricians, maintenance technicians, safety managers and electrical engineers today,"
"IRISS is excited to co-sponsor with UE Systems and Schneider Electric in sharing cutting-edge, validated technical information directly to the registrant via the internet. With the hectic schedules of today's industrial maintenance teams and the ever-present financial restrictions, it is so hard to get an individual to a live workshop or conference venue. These webinars are virtual events that meet the registrant's need to be present at their facility but also available to receive continuing education and industry insight from thought-leaders at their desktop," states Amy Campbell, Business Development Manager at IRISS.
"For the past four years, Arc Flash University has been the most popular Webcast series ever produced by Plant Engineering, and has been seen in more than 60 countries. It points to the importance of this issue among plant management personnel around the world and the emphasis these plants place on the safety of their workers. Arc flash is among the most critical safety issues faced in manufacturing today, and we appreciate the support of Arc Flash University's sponsors to bring the issues and the solutions to our audience," said Bob Vavra, Content Manager, Plant Engineering.
The webinar series kicks-off February 24th, 2011 at 2pm Eastern Standard Time (GMT-5). The first topic is "Electrical Arc Flash Safety and Risk Management" Presented by Joe Weigel, Product Manager, Square-D Services. The remaining classes are scheduled for: June 23rd and September 22nd, 2011. Registration is web-based online at: http://www.PlantEngineering.com.
About IRISS, Inc.
Established in 2007, IRISS, Inc. is a privately held company whose mission is to enable companies to "save time, save money and stay safe." As manufacturer of the world's first and only industrial-grade infrared windows, IRISS's end-user-designed products are the heart of efficient and safe work processes for infrared electrical surveys and thereby provide the means with which companies can reduce and eliminate the risk of arc flash to plant assets and personnel. IRISS, Inc. corporate offices are located in Bradenton, Florida, US, with additional offices located in Knoxville, Tennessee, US, Chelmsford, Essex, UK, and Melbourne, Victoria, AU.
# # #