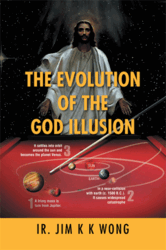 Taman Desa Tebrau, Johor Baru, Malaysia (PRWEB) June 27, 2013
God was a magnificent illusion who evolved in the religious mind. As one may have read in Cicero's The Nature Of The Gods, ancient people were vivid observers of the sky and the celestial bodies because of their livelihood–they were mostly engaged in agriculture and animal husbandry. God, in Ir. Jim K K Wong's new book, was an illusion born from an astounding celestial phenomena associated with the birth of comet planet Venus. This became the basis of Judeo-Christian lore, spreading and becoming the brilliant gods of many a religious ritual. This was how The Evolution of the God Illusion started, the rational root of Jim Wong's reasons to effect change in the way religion and God are viewed. His work, among writers who write about religion, is the exact opposite of such writers as Karen Armstrong, whose exercise in religious nostalgia and philosophical determinism created the need for a diametrically opposite one which is humanistic and logical.
The heavenly bodies were regarded as deities even by learned philosophers. Cicero and Socrates had a field day demolishing these strongly held prevailing ideas. The underlying theory for this god illusion evolution hypothesis is based on Immanuel Velikovsky's bestseller of the 1950s, Worlds in Collision. It tells of the arrival of Venus upon the Solar System and how it was taken by Abraham, Moses and their henchmen and made into a sacred religion. This hypothesis met fierce opposition in academia and Establishment science. Yet Wong harnesses all the arguments that connect various popular religious historical events to celestial phenomena. The Yahweh Delusion is one attributable to Abraham who was a Mesopotamian astronomer. An expertise in data analysis has enabled Wong to read the underlying environment and between the lines, to speculate and connect the gaps and dots together and present a satisfying version of how the God illusion came to be.
Wong presents emperical proof that have formed the bases of historical delusions that have become sacred to Judeo-Christianity. He accounts for the ignorance of our predecessors, of the awesome power and influence of colliding celestial bodies, their trails across the night sky, and how this all made the god illusion. As his precedents and philosophical progenitors did before him, Wong combats the alluring tenets of pseudo-sciences which propose a science of the divine and the manipulations of religious opportunists throughout history. The interpretation of celestial phenomena that provide many stories in the bible are carefully refuted by empirically analysed phenomena. Science, as the author amply proves in The Evolution of the God Illusion, does form an excellent body of work which has radically changed the understanding religion has of the God illusion.
For more information on this book, interested parties can log on to http://www.Xlibris.com.au.
About the Author
The author Ir. Jim KK Wong (Jim Wong) was born in Kuching, Sarawak in the former romantic kingdom of Sir James Brooke in Borneo island, now part of Malaysia. He is a self-described ex-maverick Seventh Day Adventist who was educated in Catholic school and is a student of comparative religion. He received a mining engineering degree from the University of New South Wales in Sydney, Australia and also found enlightenment in the Sydney metropolis. He was inspector of mines for some twenty years and, on retirement, became a mining and EIA consultant and was later trained as a licensed stock operator and futures trader. He is well traveled and a student of various unorthodox disciplines of sciences, cults, isms, mythologies and religions. Though a hardcore atheist, he is a critic of religion and has written several books, including Gospel Lies And The Christ Delusion, and the upcoming The Frankensteinization, Draculafiction and Lust Temptation of Christ. He married twice and has two children. He lives in Johor Baru, an hour's ride from Singapore. His main pastime are twitting, surfing the Internet, WWE and reading heretical books and magazines. Jim Wong is "on [a] Ukraine Odyssey to seek [the] goddess bride who evolved from mermaid[s] of [the] Black Sea."
The Evolution of the God Illusion * by Ir. Jim K K Wong
Publication Date: June 16, 2012
Trade Paperback; $29.99; 176 pages; 978-1-4771-1399-8
eBook; $3.99; 978-1-4771-1400-1
Members of the media who wish to review this book may request a complimentary paperback copy by contacting the publisher at 1-800-618-969. To purchase copies of the book for resale, please fax Xlibris at (02) 8088 6078 or call 1-800-618-969. Xlibris books can be purchased at Xlibris bookstore.
For more information, contact Xlibris at 1-800-618-969 or on the web at http://www.Xlibris.com.au.