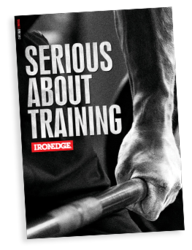 Those serious about training need the latest catalogue from Iron Edge Fitness Equipment which showcases their high performance products.
Melbourne, Victoria (PRWEB) May 15, 2012
Iron Edge fitness equipment has just released its latest offering to the elite sporting community and hard-core fitness enthusiasts alike – a full-colour, 100-page catalogue which showcases its immense range of high performance fitness equipment and gym equipment. Aptly named 'Serious about Training', the comprehensive publication goes far beyond photos and short descriptions, educating potential buyers about the product benefits as well as recommended training methodologies.
"We've spent the last 5 months putting this catalogue together because we were intent on providing our customers with a complete view of the products and how they can fit into their individual training regimes," explains Rick Ravensdale, director of Iron Edge.
"Our customers are serious about their fitness and demand quality products. We hand pick and manufacture only products which deliver results. We also provide educational material to ensure our customers know how to use the products properly. Buying the product is the first step, learning how to use it is the real key."
Iron Edge is known for its innovative approach to sourcing high quality fitness equipment and gym equipment from local manufacturers as well as across the world. The latest catalogue contains a wide array of new products as well as some old favourites.
Mr Ravensdale sums up the company's approach to their product range, saying,"It's simple, at Iron Edge we only interest ourselves in products that work. That's why we don't sell the latest fads."
"We stock old school classics like Kettlebells, Wrestler's bags, mace bells etc. For us, it's never been about fads and it never will be."
A long-running theme with Iron Edge has been the strong support they receive from professional sporting and fitness organisations - their high performance training tools are in the hands of many of this country's sporting elite.
Within the catalogue itself, customers can discover why these high-profile customers choose Iron Edge, including the NRL club, Cronulla Sharks, who have only recently turned to Iron Edge to supply their fitness equipment.
"We're proud of the fact that the Sharks have told us that it's the ever growing range of cutting edge products on offer from Iron Edge that allow them to continually train and push their athletes in every discipline, " exclaimed Mr Ravensdale.
"Be it for maximal strength, explosive power, conditioning or flexibility, we have the gear they need."
The April 2012 Catalogue is available from the Iron Edge website and can also be posted to customers in hard copy.
To view the April 2012 Catalogue or the full range of training products, visit http://www.ironedge.com
About Iron Edge
Iron Edge is Australia's leading supplier of high performance training products to professional sporting organisations and hard-core fitness enthusiasts.
They offer personal and knowledgeable service to outfit each customer with the right equipment from their innovative and diverse range, and also provide a wide range of educational support.