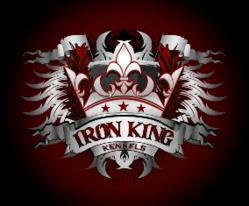 Gainesville, FL (PRWEB) August 08, 2012
Iron King Kennels, a world-class pit bull breeder, is now offering a selection of some of the finest blue pit bulls available to would-be dog owners. The breeder monitors its pups full-time and provides them with the love and attention pit bull puppies deserve 24/7. Though it breeds a healthy variety of pit bulls, Iron Kings specializes in blues and has been doing so for nearly a decade. The extreme care and attention paid to these pit bulls is a rarity in the industry and sets the kennel apart from other breeders and results in some of the finest litters available in the world.
Some of the most exclusive pit bull blood in the world runs through the veins of these beautiful animals, and it shows. Iron Kings treats its pit bulls the way they deserve to be treated – like members of the family – so adults are never sold; only pit bull puppies are made available for sale. Their exceptional handling and strictly managed bloodlines ensure that they grow into adult pit bulls with excellent temperaments, increasing their value as members of buyers' own families.
IRON KING KENNELS is a breeder of an amazing breed of dogs that deserves to be recognized for its intelligence, loyalty, obedience, and lovability. The pit bull kennel has been breeding some of the finest puppies available for the better part of the past 10 years and continues to raise its puppies with the love and care they deserve. For more information about the world-famous breeder, please visit http://ironkingkennels.com/.