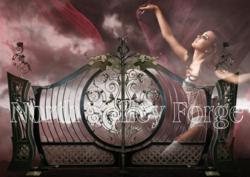 Offering major European gate automation brands such as Litmaster, FAAC, BFT, Hy-Dom and Beninca
(PRWEB UK) 18 October 2012
Wrought iron gates and electric gates is the name of the game for Nelson-based North Valley Forge, who over the last 25 years has made the move from regional supplier to a major manufacturing and supply centre.
Today, North Valley Forge is one of the foremost trade suppliers of wrought iron components, gate automation and access control products in the UK, and also boasts one of Europe's largest electric gates showrooms, which features full-sized wrought iron gates with working examples of the automated products on offer.
Following continued growth in 2005, the company set about constructing its own five-acre North Valley Business Park in Nelson and today this houses its 25,000 sq ft manufacturing, distribution and training facility, servicing both retail and trade customers.
'This was really the step that transformed the company and its capabilities,' said Mr Ratcliffe. 'It gave us the ability to control all production and start to increase our product range and supply.' Due to the long standing relationship with Liftmaster and building up an excellent reputation for service and support. North Valley Forge expanded their product range by offering other major European gate automation brands such as FAAC, BFT, Hy-Dom and Beninca, plus access control systems from – Farfisa, Videx, Comelit and Daitem. 'These are long standing relationships that mean we can offer exclusive pricing options to trade customers and back that with technical support and training,' said Richard Ratcliffe.
Over the last four years, North Valley Forge has been designing its own designer 'Ultimate' range of gates. 'These have set us apart from others within the market and were a signal of our intent to go one step further in producing our own gate range that is now very much a flagship brand.' North Valley Forge design, manufacture and install their own automated gates nationwide and is why they are the ideal supplier for any company looking to offer electric gates to their customers.
Since North Valley Forge was established in 1987, the family-owned company has always maintained a strong focus on providing 'inexpensive' electric wrought iron gates for a range of markets, including architectural, commercial and domestic.
Richard continues: "As new, affordable technology has been brought to the market, more and more people are automating their entrances to address the increasing issues of home security caused by the current downturn in the economy. We are able to offer our customers the most technically-advanced solutions, from large swing and sliding gates to automatic traffic barriers, bollards and access control systems.
"It's fair to say that in the last 25 years, we have achieved a huge amount, and we have every intention of doing the same in the next 25 years. As the market continues to grow, we will too and I for one, am looking forward to seeing what we can achieve in the years to come."
About North Valley Forge:

Established in 1987
Suppliers of major European gate automation brands such as Liftmaster, FAAC, BFT, Hy-Dom and Beninca
Probably Europe's largest Electric gates showroom
For more information contact:
Darren Weatherill: +44 (0)1282 677300