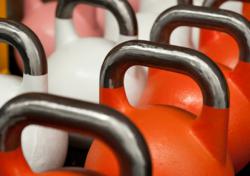 'The new store has bigger premises, which means more gear,' Managing Director and CEO Rick Ravensdale points out.
Melbourne, Australia (PRWEB) February 06, 2012
About 10 km south-east of Melbourne's central business district, Glen Iris is a suburb that is considered Melbourne's geographical center of population. It may be quieter than the city proper, but it has a large competitive market, hence a good choice for the location of Iron Edge's newest store. Iron Edge Glen Iris was launched in December of last year and the management has been thrilled about the size of its showroom. "The new store has bigger premises, which means more gear," Managing Director and CEO Rick Ravensdale points out.
Founded by Ravensdale, Iron Edge is Australia's leading retailer/wholesaler of high performance training products. It offers a wide range of gym equipment used by elite athletes and sporting teams. Its main offering, however, is the kettlebell, which is also the point of origin of the entire Iron Edge enterprise. Ravensdale recounts the beginnings of his company, which is currently Australia's number one kettlebell supplier: "One day I accidentally stumbled across kettlebells. I wasn't sure what they were, but they certainly were interesting. My research uncovered a secret Russian training device that promised to give the body a complete workout like no other fitness tool."
Kettlebells, however, were very rare in Australia. Ravensdale resorted to having some made by a local foundry and while his first piece was rough around the edges, it served its purpose and convinced him after an exhausting ten-minute workout that kettlebell training was for him. Before long, people were asking him to make kettlebells for them. Recognizing a great potential, Ravensdale quit his job as a personal trainer and got busy with the inception of Iron Edge.
"We've come a long way since those early days and have branched out to be Australia's leading supplier of kettlebells and other high performance training products," the fitness guru pronounces. Besides kettlebells, Iron Edge offers a full range of products, including aqua bags, foam rollers, gymnastic rings, powerbands, barbells, etc. These can all be found in the new Iron Edge store, which also happens to be the first high performance training studio in Glen Iris. "Come and learn functional training principles and get fitter, leaner and stronger," Ravensdale invites the Glen Iris populace.
Iron Edge is clearly a pioneer in the kettlebell market in Australia. Besides selling various versions of the kettlebell, the company also offers related products and services. "We also lead the way in providing education and training manuals. We launched Australia's first kettlebell certification course (AKI) and now have qualified instructors throughout Australia. We have set up monthly kettlebell workshops and provide a full range of DVDs, books and training manuals on all our products," Ravensdale shares.
Iron Edge Glen Iris has set off to a great start as fitness enthusiasts in the area show interest in kettlebell workouts, lured by the company slogan's promise of getting the unfair advantage. In the short time since its opening, the new store has already established itself as an excellent resource for high quality, innovative training products and information for the community.
###