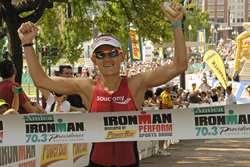 Lincoln, RI (Vocus) July 12, 2010
Terenzo Bozzone of New Zealand won yesterday's Amica Ironman 70.3 Rhode Island Triathlon with an overall time of 4 hours, 1 minute and 15 seconds.
Bozzone was among nearly 1,200 athletes who competed in the Amica Ironman 70.3, which took athletes from the waters off Roger Wheeler State Beach in Narragansett to the State House in downtown Providence.
Tim Berkel of Australia earned a second place finish with a time of 4 hours, 2 minutes and 5 seconds. Paul Ambrose of Great Britain rounded out the podium with a third place finish time of 4 hours, 3 minutes and 2 seconds.
The top five professional men's results are as follows: 1, Bozzone, New Zealand, 4:01:15; 2, Berkel, Australia, 4:02:05; 3, Ambrose, Great Britain, 4:03:02; 4, Richie Cunningham, Australia, 4:07:00; and 5, Maxim Kriat, Ukraine, 4:07:43.
Kate Major of Australia dominated the women's field, capturing first place with a time of 4 hours, 30 minutes and 36 seconds. Caitlin Snow of Brockton, MA, was right behind her with a time of 4 hours, 30 minutes and 59 seconds. Samantha Warriner of New Zealand finished out the top three with a time of 4 hours, 33 minutes and 32 seconds.
The top five professional women's results are as follows: 1, Major, Australia, 4:30:36; 2, Snow, Brockton, MA, 4:30:59; 3, Warriner, New Zealand, 4:33:32; 4, Kim Loeffler, Colchester, VT, 4:33:46; 5, Heather Jackson, Lomita, CA, 4:34:13.
John Hirsch and Lisbeth Kenyon were the top Rhode Island finishers for the second year in a row. Hirsch, 35, grew up on Block Island. He placed 25th overall with a time of 4:35:04. Kenyon, 45, of Barrington, took 60th overall with a time of 4:51:40.
The third annual Amica Ironman consisted of a 1.2-mile swim, a 56-mile bike and a 13.1-mile run. A total of 1,163 athletes officially started the race, representing 40 states and more than 20 countries. Sunday's sultry skies assaulted athletes during the bike and run, with temperatures hovering near 90 degrees.
About Amica Mutual Insurance
Amica Mutual Insurance Company, the nation's oldest mutual insurer of automobiles, was founded in 1907. The company, with corporate headquarters in Lincoln, RI, is a national writer of automobile, homeowners, marine and personal umbrella liability insurance. Life coverage is available through Amica Life Insurance Company, a wholly owned subsidiary. Amica employs more than 3,200 people in 40 offices across the country. Visit Amica.com.
CONTACT:
Vince Burks
Corporate Communications
50 Amica Way
Lincoln, RI 02865-1155
800-652-6422, ext. 24563
Website: Amica.com
Twitter: Amica Insurance
Facebook: Amica Mutual Insurance Co.
# # #