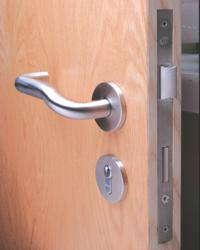 (PRWEB UK) 29 September 2011
We are all becoming aware of the impact that something like MRSA can have. Whether it's in a hospital or at a school, MRSA is usually transmitted by direct skin to skin contact, but it can live on common surfaces such as door handles.
While it's important of course to practice good personal hygiene such as regular handwashing in order to help stop MRSA being transmitted, innovative new products are also being introduced to assist in preventing its spread.
Wayne Lysaght-Mason, Managing Director of IronmongeryDirect points to the introduction of Touch Clean Anti Bacterial Door furniture.
The anti-bacterial coating protects against a number of viruses, bacteria and mould organisms, avoids the need for chemical cleaning and once applied, with correct maintenance, can protect for many years. When Ultra Violet light strikes the particles in the coating, they are activated and emit electrons. A powerful oxidising reaction is created which breaks down organic compounds including bacteria, viruses, moulds and odours into water and carbon dioxide which then evaporate from the surface.
The coated products are ideal for use in many environments such as schools, hospitals, care homes and dentists surgeries where the MRSA risk may be significant.
This innovative door furniture also has a 'self cleaning' effect that repels dirt and water on hard surfaces.
# # #