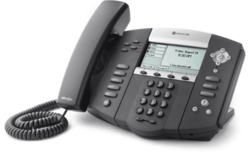 Now you can read your voicemail just like email!
Birmingham, Alabama (PRWEB) April 03, 2013
Transcribe automatically converts voicemail messages to text in under 90 seconds with over 90% accuracy.
"Now you can read your voicemail just like email," says Bill Kervaski, CEO and Founder.
IronVoice claims Transcribe can exceed 90% accuracy due to transcriptions being performed by people instead of machines.
"Most voicemail transcription services use computer based speech-to-text which isn't very accurate," continues Kervaski. "Transcribe is human-sourced with accuracy typically greater than 90% and turn around is fast."
IronVoice reports early adopters are extremely happy with Transcribe.
"We love Transcribe! Our customers leave thousands voicemails every month with detailed information, the accuracy is amazing," adds Brion Bowman, COO of Total Pain Solutions, an IronVoice customer.
IronVoice automatically emails voicemail messages that now include a full text transcription.
Additionally, customers can search for past voicemail messages based on keywords.
IronVoice provides a cloud based Broadband Phone Service and Virtual Phone System for small and medium businesses.