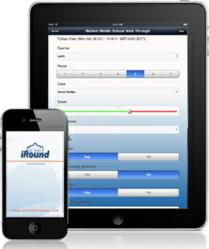 This solution enables hospitals to round, collect, and act on data quickly and effectively, which drives systematic and sustainable performance improvement.
Plymouth Meeting, PA (PRWEB) July 30, 2012
ActiveStrategy, Inc., a leading provider of strategy and performance management software and consulting services, today announced the general availability of the ActiveStrategy iRound Patient Satisfaction Solution (iRound PSS™), the first system that enables hospitals to directly address new Value-Based Purchasing (VBP) guidelines recently implemented by the Centers for Medicare and Medicaid Services (CMS) as part of the Patient Protection and Affordable Care Act. Under the new guidelines, a growing percentage of a hospital's reimbursement dollars are contingent upon the hospital's performance in areas including patient safety, quality, efficiency, and patient satisfaction.
Jeffrey Bunting, Founder and President of ActiveStrategy, noted that the amount of reimbursement dollars at risk under VBP is significant for hospitals and health systems of all sizes. "Even small health systems have estimated that the new guidelines could put at least $1 million at risk by 2013 and put at least double that amount in jeopardy by 2017," said Bunting.
To make and sustain improvements in these key areas, hospitals conduct and record numerous safety, quality, and compliance observations, as well as various surveys of patients, families, and employees. Most hospitals conduct these types of surveys and observations using paper-based forms that are later entered into spreadsheets and databases, a time consuming and error-prone process. ActiveStrategy iRound™, first introduced in 2010 and now in use at leading hospitals and health systems across the country, lets hospitals conduct all kinds of surveys and forms on iPhones, iPads, or iPod touch devices. The forms can be easily modified by nurse managers, quality and performance improvement teams, and other non-technical staff, and then sent wirelessly to the Apple devices of iRound users anywhere in the hospital or system. Once forms are completed, the data is again wirelessly and securely transmitted, where it can be viewed, analyzed, and acted upon instantly.
The new iRound PSS combines the automated rounding technology of ActiveStrategy iRound with a targeted performance improvement knowledge transfer program, as well as ASE for iRound™, which is a special version of ActiveStrategy Enterprise® performance management software that displays rounding data on interactive dashboards and enables hospitals to assign, manage, and follow up on service recovery opportunities identified while using iRound. Together, the components of the solution enable hospitals to quickly and permanently affect outcomes in the specific areas where their reimbursement dollars are at risk.
A hospital's patient satisfaction scores, as measured by the Hospital Consumer Assessment of Healthcare Providers and Systems (HCAHPS) public reporting system, are a major component of the VBP program. Historically, it has been challenging for hospitals to improve HCAHPS because there are significant gaps in time between a patient's care, when the patient is surveyed about their care experience, and when the hospital receives the HCAHPS results. iRound PSS lets hospitals close those gaps by giving them an easy way to ask patients and families questions about the care experience and make changes to the care based upon those answers, all while the patient is still in the hospital. In addition, the dashboards and drill-down tools in ASE for iRound let healthcare leaders easily analyze large amounts of rounding data, discover trends, make systemic changes to processes that affect care, and see if the changes affect results.
One early adopter of iRound PSS has already demonstrated successful results. Sharon Regional Health System in western Pennsylvania, a system comprised of a 247-bed hospital plus 21 satellite centers, has already begun to use iRound PSS to support their performance improvement and performance management goals. The system is first applying iRound PSS on nursing units and critical care units to improve the patient experience through consistent and documented rounding. The collected data is providing the system with a better way to track and manage strategic objectives, key performance indicators (KPIs), related initiatives and improvement projects, and action items. Leaders across the system will have individualized dashboards that provide an easy-to-access source for all critical performance information, as well as the tools leaders need to act upon the information to improve results. CEO Linde Wilson stated that the benefits of ActiveStrategy iRound "include more standardized rounding, better documentation, and higher patient satisfaction." In another example of early results, a large health system that began using ActiveStrategy iRound in 2011 improved HCAHPS scores by 28% in less than five months.
In the next few years, as VBP guidelines put even more of a hospital's reimbursement dollars at risk, innovative approaches like iRound PSS that empower hospitals to improve their outcomes will be ever more critical. According to Bunting, "ActiveStrategy is excited to provide a solution that can have such a dramatic effect on a hospital's business, as well as such critical outcomes as patient satisfaction, patient safety, and clinical quality. We look forward to helping many more hospitals and health systems improve their results with iRound PSS in the coming months and years."
About ActiveStrategy, Inc.
ActiveStrategy technology and consulting solutions help hospitals and organizations in all other industries improve performance and overall outcomes. Our solutions include web-based strategic management and improvement software called ActiveStrategy Enterprise, an automated rounding solution called ActiveStrategy iRound that leverages iPads and iPhones to replace paper-based surveys and observations, and management consulting services that enable performance excellence.