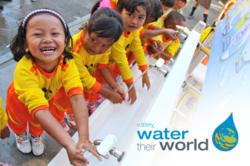 "The accessibility of clean drinking water is a major concern throughout the world."
Omaha, NE (PRWEB) January 15, 2013
Valley Irrigation®, the leader in precision irrigation, invites everybody to join the effort to provide clean drinking water to children through the Valley Water Their World promotion. Starting in January, for every new Valley Irrigation Facebook "Like," $1 will be donated to Planet Water.
"We are grateful for the generous support from Valley Irrigation," said Mark Steele, Founder and CEO, Planet Water. "This thoughtful donation will help provide clean, safe water to the world's most disadvantaged communities through the installation of community-based water filtration systems called AquaTowers.
"The accessibility of clean drinking water is a major concern throughout the world", states Michelle Stolte, Global Marketing Manager, Valley Irrigation. "Planet Water does an amazing job providing clean drinking water to people who need it most and we are excited to make a donation to their cause. When you "Like" the Valley Irrigation Facebook page at http://www.ValleyIrrigation.com/Facebook, you will have an immediate impact on bringing clean, safe water to children."
Planet Water's goal is to help five million people gain access to safe water by 2020. Reports published by the World Health Organization and UNICEF show that 884 million people in the world do not have access to improved drinking water sources. Each year, 3.6 million people die of water-related diseases. In 2011, Valmont Industries, the parent company to Valley Irrigation, donated five Planet Water AquaTowers to rural communities in the scenic mountains of Wenshan, China, bringing clean water to 5,000 people.
Valley Irrigation has had an active Facebook page since August 2012. The Valley® Water Their World™ promotion will be cross-promoted on the Valley Twitter and YouTube accounts, as well as through the Valley Irrigation blog.
Valley Irrigation reserves the right to end the promotion at any time.
About Planet Water
Planet Water is a US-based, non-profit organization focused on bringing clean water to the world's most disadvantaged communities through the installation of community-based water filtration systems and education programs on water-health and hygiene. The organization's projects are focused on schools, children, and rural communities who lack access to clean, safe water. Planet Water has completed projects in nine countries across the Asia-Pacific region. Information about Planet Water is available at http://www.planet-water.org
About Valley Irrigation
Valmont Industries, the parent company of Valley Irrigation, has been recognized worldwide as the leader in sales, service, quality and innovation, and has been recognized as such since Valmont founded the center pivot irrigation industry in 1954. With historical sales of more than 200,000 center pivots and linears, Valley equipment annually irrigates approximately 25 million acres (10 million hectares) around the world. The Nebraska-based company remains dedicated to providing innovative solutions now and well into the future. For more information please visit the Valley Irrigation website.