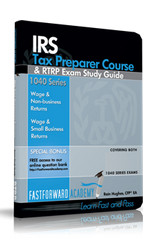 We're currently seeing students enroll in the English component of our webinar on IRS education.
Orlando, FL (PRWEB) September 23, 2012
Earlier this week, Fast Forward Academy launched its new webinar on RTRP exam preparation and IRS education and already, it is considering the English component (which started before the Spanish class) a success. So far, over NUMBER students who wish to pass the challenging RTRP exam and become a tax agent have participated in Part 1 of the webinar.
The webinars are being taught by Hector Garcia and are taking place throughout the fall in both English and Spanish. Mr. Garcia, an experienced accountant and tax preparer, has partnered with Fast Forward Academy on several occasions leading tax classes both online and in person.
Mr. Garcia is offering a variety of available sessions for the webinar, which is broken into two parts (with an optional third part taking place later this fall). Part 1 will consist of 5 hours of RTRP Test Prep, reviewing the most important concept from the RTRP preparation book. Part 2 also consists of 5 hours of RTRP Test Prep, with practical applications and a Q&A session explaining answers to applied concepts. Part 3, should students wish to further enhance their tax education, includes 5 hours of CE (3 hours of 2012 federal tax updates and 2 hours of ethics).
Fast Forward Academy President, Matt McBride, is pleased at the reaction these webinars have been receiving. "While Fast Forward Academy likes to appeal to every kind of tax student and offer various types of tax education courses—both online and in person—, we never know how successful a specific event will be until we launch it." McBride continues, "We're currently seeing students enroll in the English component of our webinar on IRS education led by Hector Garcia, which shows us that there is a need for this kind of flexible learning environment. We look forward to seeing how the remaining webinars progress throughout the term."
There is still space available in some of the webinar time slots; however, any aspiring tax agent studying for the RTRP exam should sign up as early as possible, if interested.
Click here to sign up for one of Fast Forward Academy's live RTRP Prep Webinars.
Click here to see how Fast Forward Academy can help you pass the RTRP exam
About Hector Garcia
Hector Garcia holds three post-graduate degrees and is an experienced accountant, trainer and tax preparer in Davie, FL, where he owns and operates Quick Bookkeeping & Accounting, LLC. Hector has previous experience working for such Fortune 500 companies as Best Buy, Circuit City, Bank of America and Wells Fargo.
About Fast Forward Academy
Fast Forward Academy, LLC provides companies and individuals around the world with the tools to help them efficiently manage their professional education needs. The name Fast Forward Academy reflects the scope of our mission—helping students and professionals accomplish more in less time. To realize this goal, we make every effort to provide the most useful and efficient exam prep material in the market place, all designed to help our students Learn Fast and Pass. Our principal focus is to supply rapid training and streamlined continuing education to professionals in the fields of taxation, securities and insurance.
###