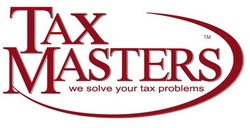 In our first year as a publicly traded company, our sustained growth was driven primarily by an increase in demand for IRS tax relief and individuals looking to regain full tax compliance.
Houston, TX (Vocus) December 17, 2009
TaxMasters, Inc. (OTC Bulletin Board: TAXS), the IRS tax relief company, today issued a letter to shareholders highlighting its 2009 financial results through the third quarter and outlining its plan for continued growth in 2010.
In the letter, TaxMasters' Founder, President and Board Chairman Patrick Cox, said, "In our first year as a publicly traded company, our sustained growth was driven primarily by an increase in demand for IRS tax relief and individuals looking to regain full tax compliance." TaxMasters became a public company in August 2009 through a reverse merger.
Earlier this month, TaxMasters reported financial results for the first nine months of 2009. Revenues totaled approximately $27 million, an increase of 87% over revenues of approximately $14 million in the same period of 2008. Net income for the nine month period was approximately $6 million, compared to approximately $1 million for the same period of 2008, an increase of nearly 442%. The company expects to report its financial results for the fourth quarter and full year 2009 on March 31, 2010.
In addition, TaxMasters has added 107 new employees in the last year, a 53% increase, bringing its total employees to 307. TaxMasters is staffing up to address expected strong demand for its tax relief services in the first quarter.
Cox continued, "The largest growth driver for TaxMasters has been the increased number of taxpayers who have issues dealing with the IRS and who are out of tax compliance. Our ability to tap a nationwide market for tax relief service through an efficient, well managed direct advertising campaign has catapulted TaxMasters to national prominence."
Coming off a year of significant growth, the company detailed its strategic plan for 2010, which will leverage the increased demand for tax preparation and relief services in the first quarter of the year ahead of the IRS's April 15th deadline. Given the economic climate that plagued much of 2009 and recent moves in the IRS to attempt to improve revenue collection methods, TaxMasters expects demand for services to continue to increase beyond the first quarter and throughout 2010.
This plan includes a number of changes and initiatives designed to meet the company's growth, including relocation to a larger office in the Houston area to accommodate new personnel and increased targeted advertising in 2010. The company will also continue to institute organizational changes begun in the second quarter of 2009 that are a result of its proprietary and internal Processes, Procedures, and Policies (P3) system. The resulting changes are designed to increase and streamline productivity, while also improving speed of service and customer service management.
Cox continued, "Tax season, which falls primarily in the first quarter of the year, presents prime opportunity for us to increase our customer base. It's important to understand that the demand for tax relief is a year-round issue for tax payers in crisis. While many may breathe a sigh of relief on April 16th, the IRS keeps going to work."
"Decreased tax receipts in 2009 make it likely that the IRS will feel additional pressure to find and collect more revenue in 2010. We believe this will create a corresponding increase in demand for TaxMasters' services.
Cox concluded, "Our primary goal in 2010 is to ensure that TaxMasters continues to grow and increase shareholder value. We are confident that the steps we took throughout 2009 to ensure sustainable growth for TaxMasters will continue to pay dividends throughout 2010. TaxMasters has the marketing, services, personnel, infrastructure and processes in place to meet the opportunity ahead of us, while growing the top and bottom lines, prudently managing costs and increasing overall shareholder value."
About TaxMasters, Inc.:
TaxMasters, Inc. (OTCBB: TAXS), the IRS tax relief company, is the first publicly traded tax resolution firm in the United States. Started by Patrick R. Cox in 2001, TaxMasters offers services and counsel to taxpayers across the country facing seemingly insurmountable tax problems, and relief from substantial federal tax debt.
Employing over 300 tax resolution experts, TaxMasters leverages the expertise of ex-IRS agents, enrolled agents, attorneys, CPAs, and seasoned tax consultants ready to counsel and assist every day people with their specific tax issues today.
For more information about TaxMasters, Inc. and its commitment to help taxpayers in the United States solve tax problems, please visit http://www.txmstr.com .
Follow TaxMasters on Twitter at http://twitter.com/gotaxmasters.
Forward-Looking Statements:
Any forward-looking statements, as defined in the Securities Exchange Act of 1934, in this release (often identified by such words as "believes," "expects," "beginning," "intended," "planned") regarding future expectations, objectives, and plans for TaxMasters, Inc. are based on opinions and estimates of management at the time the statement was made. Various known and unknown factors may cause actual results to be materially different from the expected outcomes. TaxMasters, Inc. does not, as a matter of policy, update or revise forward-looking statements. Actual results may vary materially.
Investors/Media:
Gregory FCA Communications
Paul Johnson
610.228.2113
Company:
TaxMasters, Inc., Houston
DeWayne Logan
281.497.4226 x7000
###