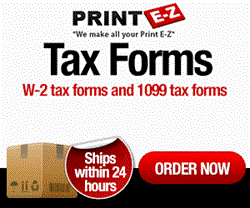 At PrintE-Z.com, the personnel make sure that everything is done to get the tax forms to the customer in time.
Monroe, NY (PRWEB) September 19, 2012
Realizing the need for last minute requests and immediate requirements, PrintEZ.com has announced its new policy with regards to IRS tax forms. The company promises to ship any orders within 24 hours of the order being placed on the site. This is for all orders placed before 2pm and orders placed later are considered to belong to the next day.
According to PrintEZ.com CEO, Morris Rose, "PrintEZ.com understands that the tax filing season can be extremely stressful. There are always likely to be times when our customers miss out on ordering some important forms and there is a mad rush towards the end of the deadline. At PrintEZ.com, the personnel make sure that everything is done to get the tax forms to the customer in time."
Not only does PrintEZ.com have a policy that delivers tax forms to customers in a matter of a couple of days, it also has a large variety of tax forms. The company seems to have been focusing on the tax forms category and ensuring that all IRS tax forms are available for any customer. The items on the PrintEZ.com site are created in such a manner that a customer will be able to find the right product irrespective of whether it is an individual customer, a small business or a large corporation.
The variety for each type of firm has evidently been offered to cover all kinds of customer needs. So when a customer is looking for an online W-2 form, options for bulk purchase, continuous W-2 forms and laser printer W2 forms varied formats shall be displayed. A customer can choose the one that best suits the tax accounting software that is used. Bulk options ensure that there are good discounts that are provided when large corporations order in large numbers. These are built into the system and therefore one does not need to look around for specific discount codes too.
PrintEZ.com maintains the offer of 24 hour shipping for all kinds of offers. It does not really matter whether the order that is placed is for a few 1099 tax forms or for a large carton of IRS 1099 tax forms. Irrespective of how large the order is, the shipment shall be readied within 24 hours and shipped off to you. The company does note that the time it takes in transit can only be estimated and shall obviously differ depending on the location of the customer.
At the same time PrintEZ.com makes sure that customers are made aware of the need to provide a detailed address. The company also uses reliable consignment carriers so that the order is delivered on time. There is also a policy that insists that the consignment be delivered in the hands of the registered customer on the site. The company, therefore, insists on a signed note if a customer wants the consignment to be handed over to someone else.
With these options in place, PrintEZ.com has nailed a key strategy and met an important need for their customers. There are plans in place for overhauling other categories as well including business forms, business checks and labels. The company has recently added a large number of business envelope options recently and is on a war path towards providing complete printing solutions for very kind of business. Not only is this company a complete package solution for all business sprinting needs, it also provides options for promotional gifts, food gifts and holiday cards that are also often required by businesses. As mentioned by Morris Rose, CEO PrintEZ.com, "The introduction of a complete range of tax forms is only a part of the overall strategy to make sure that PrintEZ.com is seen as a complete business printing solutions partner across all industries."
To read more about Tax Forms click here http://www.printez.com/tax-forms.html.
Get more information about how Print EZ offers and new launches on Tax Forms call the company at 1-888-246-0635.
To read more about Business Forms click here http://www.printez.com/business-forms.html and get regular updates of new offers and deals here.
Print EZ
4 N Main St.
Monroe, NY 10950
(845) 782-5832