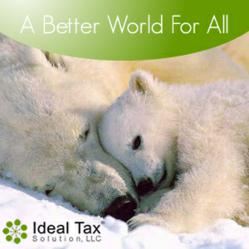 Anytime we can pass along helpful information to taxpayers we do so energetically.
Costa Mesa, CA (PRWEB) April 04, 2013
Ideal Tax Solution, LLC has learned the new app offers taxpayers safe and secure ways to access popular tax tools and up-to-date tax information. A taxpayer's phone language setting can now determine if Spanish or English content will appear.
Apple users can update or download the free IRS2Go application by simply visiting the Apple App store. Android users can visit Google Play to download their version. Either way, IRS information is now available to taxpayers at the touch of their cell phone keypad. Ideal Tax Solution is actively alerting Spanish speaking taxpayers and clients of this new easy-to-use 21st century IRS tool.
"Anytime we can pass along helpful information to taxpayers we do so energetically," says Jose Vasquez, senior marketing associate at Ideal Tax Solution. "Having clients come to us with at least a fundamental understanding of IRS procedures just helps us to more efficiently and effectively resolve their tax liability issues."
Ideal Tax Solution is providing a list of resources now available to both Spanish and English speaking taxpayers who contact them. Some of the features of the new service include:
∙ Refund Status Check. Taxpayers can check the status of their federal refund through
the mobile app with a few basic pieces of information.
∙ Get Tax Record. Taxpayers can now order their tax account or tax return transcript from a mobile device.
∙ Watch the IRS. App users can view the IRS YouTube videos on their smartphone.
∙ Follow the IRS. People can sign up to follow the IRS Twitter newsfeeds.
∙ Get Tax Updates. Phone app users can enter their email address to automatically get simple, straightforward tips and reminders to help with tax planning and preparation.
∙ Get the Latest News. With this tool users can quickly access the latest updates on the IRS.gov English and Spanish news pages.
For more information on IRS2Go, contact Ideal Tax Solution or visit http://www.IRS.gov.
For U.S. taxpayers interested in finding out more about Ideal Tax Solution and their full range of in-depth and personalized tax preparation services, or for any tax help related issue, visit them online at http://www.idealtaxsolution.com. You can also reach them by phone by dialing 888.393.5154. Good tax tips and additional information can be found on their Facebook page and by following them on Twitter.
About Ideal Tax Solution, LLC – Located in Costa Mesa, California, the company provides a full range of tax preparation and resolution services as well as reassurance to taxpayers nationwide. With more than 55 years of combined experience providing American taxpayers with federal and state income tax solutions, Ideal Tax Solution offers an experienced staff which includes Enrolled Agents, CPAs and Senior Tax Consultants who stand at the ready to help with any tax issues.